By Andy McRae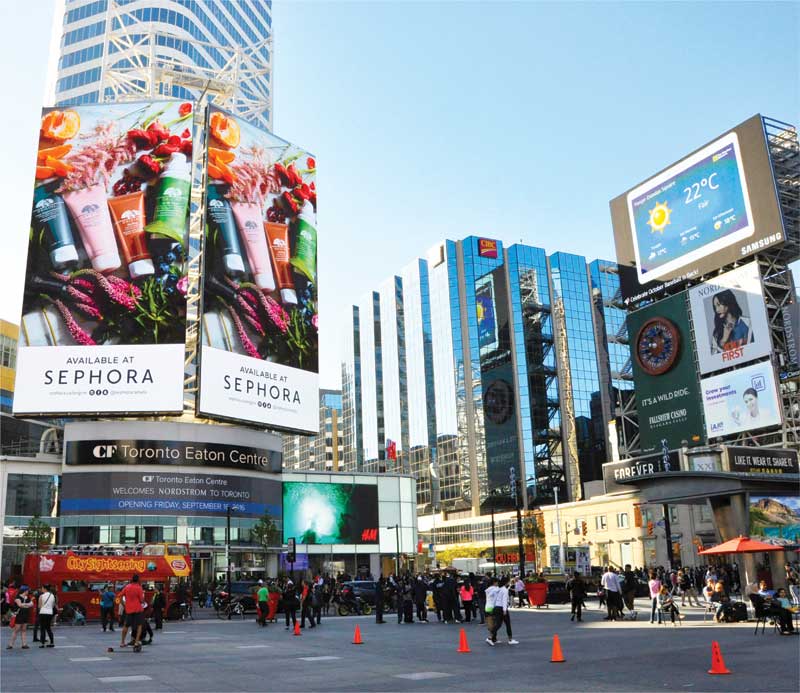 Consumers are spending more and more time out of their homes working, shopping, and playing. According to the Outdoor Advertising Association of America (OAAA), as much as 70 per cent of their waking hours are spent away from home. To reach this increasingly transient population, marketers and advertising are increasingly turning to out-of-home (OOH) media. To better handle that demand and offer better campaigns, the OOH industry is in the midst of a dramatic shift to digital technology, enabling advertisers to create campaigns that are highly targeted, interactive, and offer intelligent content based on an ever-growing mountain of actionable data.
In this age of personal video recorders (PVRs), dwindling newspaper subscriptions, increased use of public transportation, and heavy reliance on mobile devices, OOH and digital out-of-home (DOOH) are becoming an important part of the media mix. Digital screens and signs are capable of influencing destination decisions, educating people on the launch of new products and services, and providing viewers with valuable information relevant to their surroundings without being able to change the channel.
It is an exciting time for the industry, as it is catching the attention of companies like Amazon, Google, Microsoft, and Netflix. Despite the rosy outlook, however, there are some challenges and growing pains that need to be overcome.
Plenty of growth and opportunity
The DOOH industry, with its wide range of deployments, diverse venues, and multiple formats continues to enjoy unprecedented growth. There are an estimated 10,000-plus networks across North America playing tens of millions of spots daily. The category has expanded from billboards and bus shelters to include small format units in transportation hubs, malls, stores, hotels, casinos, and anywhere people pass or gather.
Initially, these were static analogue signs; however, they have now become interactive with the capability of responding to people walking by or as they pass in their vehicles. As stated by Alan High in his article, "Revenue Road Map for DOOH Deployments," estimated advertising revenues in 2017 were more than $2 billion, with a sustained eight to 10 per cent annual growth rate forecast over the next five years.
The global DOOH market is expected to get bigger at a compound annual growth rate of 12.6 per cent from 2017 to 2023, reports Allied Market Research. It also predicts the market will reach more than $8 billion within the next five years.
The billboard segment held the highest market share in 2016 and will continue to grow by 12.8 per cent from 2017 to 2023. Europe will continue to hold the highest market share at 32.7 per cent, because of the high demand for digital signage across multiple verticals.
That said, sign industry professionals must ask themselves: how can they capitalize on this spectacular demand, while at the same time satisfy their buyers' demands of immediacy, relevancy, simplicity, transparency, and most importantly, return on investment (ROI)?