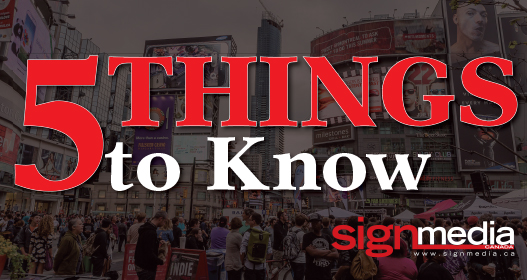 Here's your quick morning update on news in the sign industry:
1. In honour of Canada's 150th birthday, the country's oldest KFC restaurant—which has operated on 8th Street in Saskatoon since 1955—is being temporarily rebranded with a new sign reading, 'K'ehFC.'
2. Cineplex Digital Media (CDM) recently worked with Thinkway Toys and Toys R Us on an interactive digital signage campaign to promote merchandise tying in with the June 16, 2017, theatrical release of Disney and Pixar's Cars 3.
3. The city of Mississauga, Ont., is pursuing a Guinness World Record for 'longest greeting card' after assembling a gigantic birthday card earlier this month for Canada's 150th anniversary, spanning 47.2 m (155 ft) at the city's Celebration Square.
4. Avery Dennison Graphic Solutions' fifth annual 'Wrap Like a King' challenge was launched this month, featuring a new continental title to be awarded between the announcement of regional winners and the crowning of the world champion.
5. The digital signage software market was valued at nearly US$4.5 billion in 2016 and is expected to more than double within a seven-year period, topping US$9 billion by 2023, according to MarketsandMarkets.