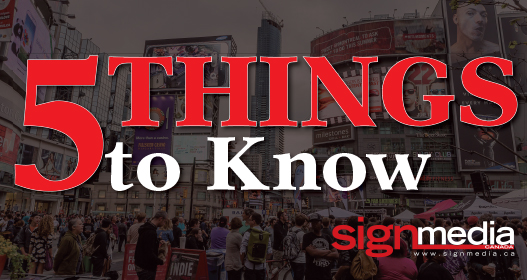 Here's your quick morning update on news in the sign industry:
1. Robert Young, the artist behind the 'Young World Faces' series of inkjet-printed textiles that debuted during Toronto's 2015 Pan American (Pan Am) Games, recently produced a special commemorative edition for the Royal Ontario Museum's (ROM's) Canada 150 celebrations.
2. Out-of-home (OOH) advertising firm Branded Cities Canada, previously known as Clear Channel Outdoor Canada (CCOC), won four awards at the Ad Club of Toronto's sixth annual OOH Showdown last month.
3. The Grammy Museum, a non-profit educational facility in downtown Los Angeles, Calif., devoted to the history of the music recording industry awards, recently selected Toshiba America Business Solutions to implement light-emitting diode (LED) digital signage.
4. The colourful illuminated sign in Toronto's Nathan Phillips Square was recently decorated with 150 'My City My Six' stories, each just six words long. They are scheduled to remain in place until spring 2018.
5. The Canadian Out-of-Home Measurement Bureau (COMB), which publishes out-of-home (OOH) advertising market data, announced its new board of directors for 2017 and 2018.