What's new in OOH
by carly_mchugh | 11 June 2022 4:36 pm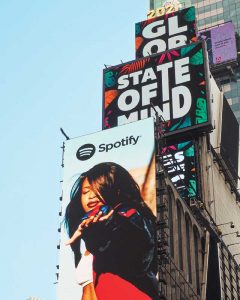 [1]
By Chadi Borghol
One of the first advertising channels to emerge, out-of-home (OOH) continues to stand the test of time. Even with the rise of audio, online, mobile, and CTV advertising, the global digital-out-of-home (DOOH) market is expected to reach US$35 billion by 2027, according to a Research and Markets Report.¹ The medium has steadily grown year over year, evolving to keep pace with modern times via inventory digitization and a transition to programmatic—automated buying and selling. These developments, coupled with increasing interest in OOH post-pandemic, have prepared the medium for its next phase of growth, just as the advertising industry undergoes a major transformation.
A go-to strategy for media buyers in recent years, third-party targeting is losing steam between the impending demise of the cookie, consumer privacy concerns, and stricter government regulation. Diminishing returns from campaigns built on the practice have brands and media buying agencies rethinking their campaign approaches. Indeed, many are refocusing their attention on OOH as a medium to reach a larger swath of populations with contextually relevant content. To keep pace with the demand, OOH ad tech companies are advancing programmatic capabilities to ensure more buyers can take advantage of the medium. Together, these events are driving OOH to a more prosperous future.
Looking to the past to understand the present
Uncovering future OOH opportunities requires a brief reflection on the past and present. Historically, advertiser goals have fallen into two distinct camps: 'make them love us' ads to inspire brand loyalty, and 'make them buy us' ads, which aim to directly influence purchasing decisions. Non-addressable 'make them love us' ads are popular amongst brands with wide appeal and often surface on TV and OOH displays. Addressable 'make them buy us' ads include a call to action and are typically measurable. Although popular, addressable ads are highly competitive to land, as they target audiences on an individual basis versus a mass audience. The introduction of the third-party cookie—a small text file that keeps track of a person's online activity to create a profile—in the '90s gave rise to addressable advertising, making it easy to hyper-target people. It took off quickly and has fueled online advertising since. However, in recent years, consumers have become increasingly concerned about how this data is collected, stored, and used, prompting some to question the ethics of the practice.
Addressing the addressable media dilemma
Nearly 75 per cent of media is addressable and, although it has been beneficial for third-party audience targeting, brands are paying way more per impression and driving up costs. Increased competition has made the medium less accessible for smaller brands or has only allowed them to buy sub-par inventory with their budget. Potential consumers can tick many boxes, making competition for their business fierce—even between seemingly unrelated verticals.
As such, addressable advertising may make sense for selling more expensive merchandise like a luxury vehicle, but the ROI just is not there for smaller staples. As more brands are waking up to the realization that third-party targeting is no longer the treasure trove it once was, OOH is gaining a more prominent role among online, mobile, and TV in the omni-channel ecosystem.
The non-addressable OOH advantage
At its core, OOH is overwhelmingly a medium for 'make them love us' campaigns, providing a large-scale creative canvas that can capture the attention of a broad audience in the context of the moment and inspire recall. Among Millennial and Gen Z audiences, more than 60 per cent of respondents in a survey from the Harris Poll and the Out of Home Advertising Association of America (OAAA) revealed they not only recall seeing OOH ads, but also they are more likely to share images of standout OOH ads on social platforms.² OOH ads also stand out, in that they can't be blocked by ad blockers as is the case with online and mobile. They are also consumed in one place so, as populations continue to grow and remain active, the potential audience increases as well.
Typically, the same OOH ad plays to multiple people simultaneously, so they are non-addressable, like TV. They are also tangible, with each screen commanding a physical location and offering contextual opportunity. The contextual benefits of DOOH are expansive. Not only can advertisers easily target campaigns with parameters based on weather, time of day, traffic conditions, and other triggers, but messaging can also be geo-targeted.
Programmatic is the game changer for DOOH in this respect, and many OOH-specialty DSPs now offer a range of similar parameter settings out of the box. Automating the transaction process, programmatic technology is democratizing OOH—making the medium more accessible and cost-efficient compared to addressable media, especially for niche brands who cannot afford to compete in or will not find value in the world of addressable ads. Programmatic DOOH (pDOOH) also gives media buyers more flexibility, which has proven crucial throughout the pandemic when campaign messaging has required a rapid change due to global conditions, or as ad budgets have shifted.
Online and mobile versus TV
Online and mobile advertising, commonly referred to as digital advertising, currently represents almost half of all media spend. It is largely programmatic in nature and has been that way for quite some time, which has made it easy to buy and sell. However, it is also almost exclusively addressable, which does not bode well for mass brands, whose target audience is a large chunk of the population.
This is one of the reasons we tend to see mass brands invest more in OOH and/or TV. TV is a medium built for ads that inspire brand loyalty (and water cooler buzz). However, TV has changed significantly in recent years with the rise of many streaming platforms. TV is no longer consumed linearly as traditional broadcasts, and audiences are highly fragmented. The rise of CTV, which enables personalization, is making TV advertising addressable and skippable, and some paid streaming services do not support ads. These challenges extend into audio, another medium that has exploded with the introduction of podcasting.
Bracing for a non-addressable future
The ad world is undergoing a monumental transformation with the impending death of the cookie. The brands and media buying agencies must consider new strategies and tactics outside of traditional digital and TV advertising, because old tactics just will not yield the results they once did. Even though OOH has been around the block, its moment to shine is here. OOH's non-addressable nature makes it an ideal medium for reaching mass audiences, and programmatic advancements are making contextual targeting simpler while also streamlining how the medium is bought and sold. Digital and TV advertising are not going away, but integrating them with OOH in an omni-channel approach can deliver an impact unlike any single channel alone.
pDOOH technology will have a valuable role to play in driving the industry forward in 2022 and beyond.
Notes
¹https://www.prnewswire.com/news-releases/global-35-billion-digital-out-of-home-ooh-market-to-2027-eco-friendly-designs-sleeker-hardware–smarter-software-proliferate-dooh-domain-301336353.html, July 2021
²https://www.campaignlive.com/article/want-reach-gen-z-ooh-ads-social-media-help/1733497, November 2021
Chad Borghol is director of sales at Broadsign.
Endnotes:
[Image]: https://www.signmedia.ca/wp-content/uploads/2022/11/img_3_8x10_300.jpg
[Image]: https://www.signmedia.ca/wp-content/uploads/2022/11/20201211_143047.jpg
[Image]: https://www.signmedia.ca/wp-content/uploads/2022/11/20201211_145917.jpg
[Image]: https://www.signmedia.ca/wp-content/uploads/2022/11/20201211_145933.jpg
Source URL: https://www.signmedia.ca/whats-new-ooh/
---