Sarnia's Sure Signs gets praise from out of this world
24 August 2021
By Dave Flaherty
 Sarnia, Ont.-based Sure Signs Inc[1]., is a local signage supplier and graphic design hub, specializing in custom outdoor signs, but also providing so many more options.
They offer vehicle graphics (full or partial wraps) decals of many sizes and quantities, full LED signage, and fabrication of many custom solutions to meet the needs and demands of their clientele.
"Its common for us on any given day to be installing cut vinyl lettering onto local businesses while at the same time, the back shop is humming with all kinds of fabrication projects on the go. Large or small, we will work to provide interior or exterior signage solutions for all of our customers," said Mark Tetreault of Sure Signs.
Throughout their two-decade history, the shop has completed many high-profile jobs in the city of Sarnia including staple community parks such as Canatara Park[2], signage for the city, Bluewater Health – Sarnia (formerly Sarnia General Hospital), and local municipalities and has installed some large franchise signage for restaurants such as Taco Bell and McDonalds. However, one project caught the attention of a very famous Canadian.
Canadian astronaut Chris Hadfield[3], also a fighter pilot, commended the company on their work in the restoration of an F-86 Sabre jet in Sarnia's Germain Park.
"We are all the product of our history and can learn so much from those that have gone before. Seeing the restored F-86 Sabre gives us a direct link to our past and standing and reading the graphics restored by Sure Signs makes the human story clear for everyone, young and old," Hadfield said. "As a proud Sarnian, Sabre pilot, and astronaut, I give my congratulations and thanks for a job well done."
Sign Media Canada recently spoke with Tetreault about the business, their past year through the pandemic, and plans for the future.
Sign Media Canada (SMC): What is the history of the shop?
Mark Tetreault (MT): Sure Signs Inc., started 21 years ago, back in 2001, here in Sarnia Ont., and we have been proudly serving the many residents and businesses in the area ever since. Founding partners, Tom Schickler and Kevin Moore initially ran the business together, but today we have grown to a team of 10 employees.
SMC: What makes your company unique?
MT: Our commitment to quality makes Sure Signs unique. Our push towards customer service is also a major factor in allowing us to stand out from our competition.
We have a high degree of empathy for the entrepreneur or business in a quick pinch for a high impact signage solution in the final hours before opening day. We have always pushed to help in those types of circumstances. If our customers shine, so do we. Recently, we worked closely with Lambton College as well as the Canadian Coast Guard services, assisting them with necessary COVID-19 safety materials and partitions to keep essential workers safe during this time.
We have been a trusted sign company here in Sarnia for many years. When customers come in with an idea for a project, they will often reference another sign they were aware we have completed in the past. We don't take that for granted. Referrals and our reputation are our biggest sales drivers, for sure.
As an example, the Sarnia boating community often shows up annually on our doorstep around this time for replacement decals or even full wraps; as soon as someone gets theirs done, they often recommend us. Its almost like a chain reaction with each one referring the last. We get a kick out of that.
SMC: How large is the facility?
MT: We have 10 amazing employees and our shop is 697-m2 (7500-sf). We moved here a few years ago in anticipation of and now because of growth. We were just up the road from our last location, so our customers were not too thrown off by the transition into the larger facility.
SMC: What type of signage does your shop primarily make?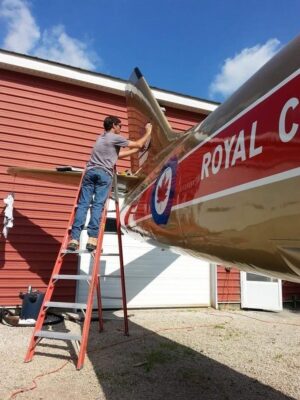 MT: At Sure Signs, we make most types of signage. We cut vinyl to printed decals, banners, and automotive wraps, as well as post and panel signs, billboards, and electrical signage.
SMC: What type of projects have you been working on recently?
MT: We have seen a demand for pylon signage, electrical fascia signs/channel letters, vehicle graphics, etc.
In Sarnia, we are seeing businesses take great strides in attempting to stand out. We are not sure if it's the real estate market investing more in their plazas, but we do find many are getting facelifts and coming to us to update their old basic plexiglass sign faces to something with more 3D-effects. As we upgrade their layout, its as though their neighbours seem to catch on, which is why perhaps we see ourselves retrofitting a lot of older ballast/bulb signs to more LED styles. Our own sign out front features beautiful channel letters so as we stand out ourselves, so perhaps its easier to highlight these newer possibilities. We do find it a challenge to update signs that are very old or damaged, but for the most part, our customers seem to take our advice and invest in upgraded/ long-term solutions.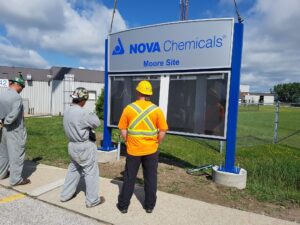 SMC: How much of the sign making process is handled in-house?
MT: Roughly 90 per cent. We typically only outsource channel letter fabrication and waterjet cutting. We love that we do most of our work in-house. For many years, outsourcing custom work was a logistical challenge and the culture in Sarnia is quite strong to shop local. Its been better for us to do many builds locally in terms of quality control, and it also fosters a 'local- serving local' attitude.
SMC: What tools/equipment do you currently use to complete your projects?
MT: Various large-format printers and vinyl plotters, as well as MIG, TIG, and stick welders, plasma cutters, and bucket trucks. We have two Mutoh printers that are cooking fairly consistently.
SMC: What does your planning and design process involve?
MT: Typically, a consultation takes place followed by a site survey, if necessary. Measurements are then taken, and a simulation will take place. We invest time in simulating the look of the signage onto a good, clean photo so our customers can see for themselves what the potential project will look like in its environment. From there, we work closely with our clients to 'get it right.'
One of our core values is to provide a true 'wow' experience for our customers (and each other). For us to provide said experience, its important to assemble quotes/estimates and simulation drawings quickly so our customers can work with us to refine what their true goals of the project are. From there, we provide realistic timelines depending on what materials and/or fabrication needs are necessary to accomplish the project within our customers ideal timeframe. Following up upon installation is also important to us as well.
SMC: How is technology changing your business?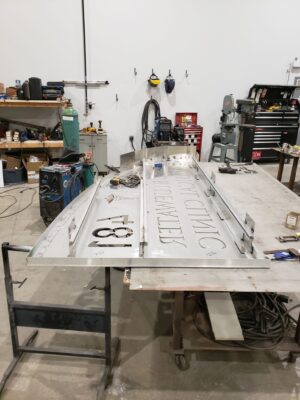 MT: There will be less maintenance work in coming years as new signs go to LED illumination and retrofitting old fluorescent signs,
SMC: What is the key to staying successful in this industry?
MT: It's the ability to change/adapt to unforeseen obstacles. Keeping quality high and catering to your core clients. We have pivoted our services a few times, but for the most part, we have grown with the local needs of our community. If we see some unique concepts online, or even in another city as we travel, we will try to incorporate them into our consultations. We work hard to listen to our clients needs and work to meet them.
SMC: What are the future plans for your business?
MT: We want and plan to grow the business considerably in the next few years. We have been in our new space for a few years now and are equipped to accommodate such growth. Our sales force is and will continue to grow as well. Its been a unique experience as we transition though our growth ceiling going from phones ringing to a more proactive sales approach and taking on larger bids on within our area.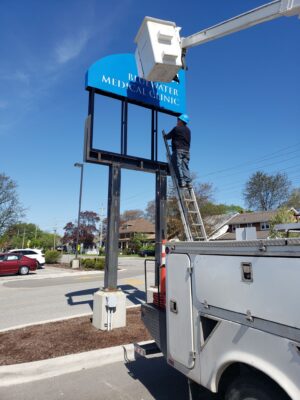 SMC: How has COVID-19 affected your business? How did the shop cope?
MT: We had to cut back on some design, installation, and production staff. Last year at the start of the pandemic, we focused on smaller internal projects that could be picked up curbside or delivered.
SMC: Have you produced any COVID-19 related signage?
MT: We've put out our fair share of COVID-related decals, signs, and plexiglass guards, to say the least.
SMC: What do you see as the future of the sign business in Canada?
MT: I feel that as the economy recovers from the recent pandemic, the sign industry will be there to help educate and promote.
SMC: What are some of the challenges facing the industry, including your own business?
MT: We may have to get more creative as an industry as more businesses shift to a more online presence. Digital signage is going to continue to expand as we have seen in our community.
SMC: What advice would you give to someone looking to get into the sign business?
MT: I would encourage anyone getting into this very diverse and fast-paced business to ensure they have passion; a passion for helping others, and a flexible mind for sure.
SMC: Where do you see growth opportunities in terms of technology for signmakers?
MT: I do think in a digital age, screens are already everywhere. Its only going to make sense that we see the way things are going towards digital signage solutions and prepare for that.
SMC: If there anything you would have done differently if you knew then what you know now? MT: We use Sign Tracker and have amped that up. I would say that a good CRM could have helped us in those old days for sure, in terms of staying on top of priority jobs.
Endnotes:
Sure Signs Inc: http://suresigns.ca/
Canatara Park: https://www.ontbluecoast.com/listing/canatara-park/
Chris Hadfield: https://www.signmedia.ca/publications/de/201404?page=26
Source URL: https://www.signmedia.ca/sure-signs/
---