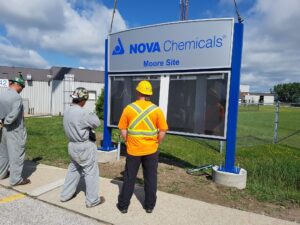 SMC: How much of the sign making process is handled in-house?
MT: Roughly 90 per cent. We typically only outsource channel letter fabrication and waterjet cutting. We love that we do most of our work in-house. For many years, outsourcing custom work was a logistical challenge and the culture in Sarnia is quite strong to shop local. Its been better for us to do many builds locally in terms of quality control, and it also fosters a 'local- serving local' attitude.
SMC: What tools/equipment do you currently use to complete your projects?
MT: Various large-format printers and vinyl plotters, as well as MIG, TIG, and stick welders, plasma cutters, and bucket trucks. We have two Mutoh printers that are cooking fairly consistently.
SMC: What does your planning and design process involve?
MT: Typically, a consultation takes place followed by a site survey, if necessary. Measurements are then taken, and a simulation will take place. We invest time in simulating the look of the signage onto a good, clean photo so our customers can see for themselves what the potential project will look like in its environment. From there, we work closely with our clients to 'get it right.'
One of our core values is to provide a true 'wow' experience for our customers (and each other). For us to provide said experience, its important to assemble quotes/estimates and simulation drawings quickly so our customers can work with us to refine what their true goals of the project are. From there, we provide realistic timelines depending on what materials and/or fabrication needs are necessary to accomplish the project within our customers ideal timeframe. Following up upon installation is also important to us as well.
SMC: How is technology changing your business?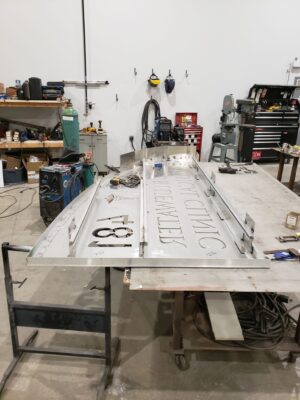 MT: There will be less maintenance work in coming years as new signs go to LED illumination and retrofitting old fluorescent signs,
SMC: What is the key to staying successful in this industry?
MT: It's the ability to change/adapt to unforeseen obstacles. Keeping quality high and catering to your core clients. We have pivoted our services a few times, but for the most part, we have grown with the local needs of our community. If we see some unique concepts online, or even in another city as we travel, we will try to incorporate them into our consultations. We work hard to listen to our clients needs and work to meet them.
SMC: What are the future plans for your business?
MT: We want and plan to grow the business considerably in the next few years. We have been in our new space for a few years now and are equipped to accommodate such growth. Our sales force is and will continue to grow as well. Its been a unique experience as we transition though our growth ceiling going from phones ringing to a more proactive sales approach and taking on larger bids on within our area.