SMC: What makes your company unique?
MT: Our commitment to quality makes Sure Signs unique. Our push towards customer service is also a major factor in allowing us to stand out from our competition.
We have a high degree of empathy for the entrepreneur or business in a quick pinch for a high impact signage solution in the final hours before opening day. We have always pushed to help in those types of circumstances. If our customers shine, so do we. Recently, we worked closely with Lambton College as well as the Canadian Coast Guard services, assisting them with necessary COVID-19 safety materials and partitions to keep essential workers safe during this time.
We have been a trusted sign company here in Sarnia for many years. When customers come in with an idea for a project, they will often reference another sign they were aware we have completed in the past. We don't take that for granted. Referrals and our reputation are our biggest sales drivers, for sure.
As an example, the Sarnia boating community often shows up annually on our doorstep around this time for replacement decals or even full wraps; as soon as someone gets theirs done, they often recommend us. Its almost like a chain reaction with each one referring the last. We get a kick out of that.
SMC: How large is the facility?
MT: We have 10 amazing employees and our shop is 697-m2 (7500-sf). We moved here a few years ago in anticipation of and now because of growth. We were just up the road from our last location, so our customers were not too thrown off by the transition into the larger facility.
SMC: What type of signage does your shop primarily make?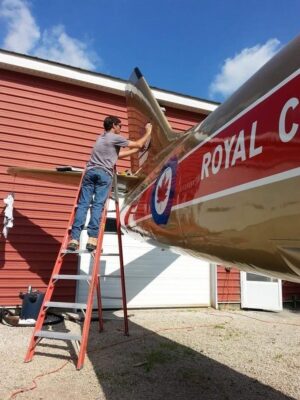 MT: At Sure Signs, we make most types of signage. We cut vinyl to printed decals, banners, and automotive wraps, as well as post and panel signs, billboards, and electrical signage.
SMC: What type of projects have you been working on recently?
MT: We have seen a demand for pylon signage, electrical fascia signs/channel letters, vehicle graphics, etc.
In Sarnia, we are seeing businesses take great strides in attempting to stand out. We are not sure if it's the real estate market investing more in their plazas, but we do find many are getting facelifts and coming to us to update their old basic plexiglass sign faces to something with more 3D-effects. As we upgrade their layout, its as though their neighbours seem to catch on, which is why perhaps we see ourselves retrofitting a lot of older ballast/bulb signs to more LED styles. Our own sign out front features beautiful channel letters so as we stand out ourselves, so perhaps its easier to highlight these newer possibilities. We do find it a challenge to update signs that are very old or damaged, but for the most part, our customers seem to take our advice and invest in upgraded/ long-term solutions.