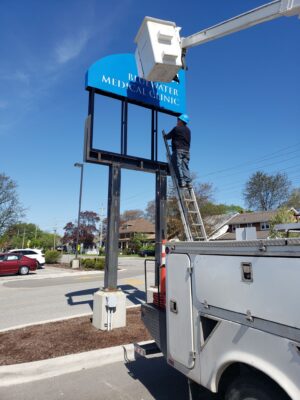 SMC: How has COVID-19 affected your business? How did the shop cope?
MT: We had to cut back on some design, installation, and production staff. Last year at the start of the pandemic, we focused on smaller internal projects that could be picked up curbside or delivered.
SMC: Have you produced any COVID-19 related signage?
MT: We've put out our fair share of COVID-related decals, signs, and plexiglass guards, to say the least.
SMC: What do you see as the future of the sign business in Canada?
MT: I feel that as the economy recovers from the recent pandemic, the sign industry will be there to help educate and promote.
SMC: What are some of the challenges facing the industry, including your own business?
MT: We may have to get more creative as an industry as more businesses shift to a more online presence. Digital signage is going to continue to expand as we have seen in our community.
SMC: What advice would you give to someone looking to get into the sign business?
MT: I would encourage anyone getting into this very diverse and fast-paced business to ensure they have passion; a passion for helping others, and a flexible mind for sure.
SMC: Where do you see growth opportunities in terms of technology for signmakers?
MT: I do think in a digital age, screens are already everywhere. Its only going to make sense that we see the way things are going towards digital signage solutions and prepare for that.
SMC: If there anything you would have done differently if you knew then what you know now? MT: We use Sign Tracker and have amped that up. I would say that a good CRM could have helped us in those old days for sure, in terms of staying on top of priority jobs.