A direct hit: How DTG printers are helping pros meet the moment
by carly_mchugh | 18 October 2022 9:47 am
By Kitt Jones
One of the most prominent changes in the print industry over the last few years has been the increased demand for direct-to-garment (DTG) printing. A large part of this change is due to a growing trend in customization and personalization, accompanied by the rise of e-commerce and "one-stop shops" offering customers a wide range of apparel resources.
In 2021, sales of DTG printing products reached US$202 million (C$253 million), despite the effects of the pandemic. Over the next 10 years, it is projected the global DTG printing market will see a compound annual growth rate (CAGR) of 8.3 per cent.1
Today's print shop clients are often looking for specialty printed and short-run apparel along with their graphics, and DTG printers have emerged as a critical technology. Manufacturers are responding with new DTG printers offering increased flexibility and appeal as an in-house resource.
Managing demand
While customers are asking for more DTG products such as T-shirts, hats, and bags, many print shop owners have not been able to provide these services internally. To satisfy their clients' requests, print service providers (PSPs) have been outsourcing their DTG production—which can constrain the shop's ability to control quality, timing, and costs.
To address this need, printer manufacturers have developed innovative DTG printing technology, which is spearheading advances in related ink and pre-treatment options. These changes are making DTG printing workflows more accessible and flexible than ever. Today's DTG printers are both powerful and versatile, providing the on-demand production capability needed to help PSPs fulfil custom and short-run orders in-house.
The evolution of DTG technology
In the last few years, owners of DTG printers have found ways to speed up production through a variety of pre-treating and heat pressing techniques. However, while this technology is becoming more powerful and less expensive, one-platen printer production can only go so fast.
Today's improved inks and more comprehensive software are important for increasing the speed and efficiency of DTG printing. However, the real leap forward is coming from flexible print production, which allows companies to diversify their product line and set themselves apart from the competition.
Printer manufacturers have developed DTG print technology which provides faster, better production on a wider variety of materials and substrates. For example, Roland DG recently released a DTG printer featuring a 1346.2- x 1625.6-mm (53- x 64-in.) bed and a 203.2-mm (8-in.) Z axis, allowing users to print on multiple shirts at once, or on larger, more lucrative products such as towels, jeans, and blankets. The power and versality of these types of printers changes the economics of customized and short-run production, yielding higher profitability for print shop owners.
As part of clients' branding efforts, graphic production shops are more routinely being asked to produce short-run and custom apparel. These are projects which are too small for a traditional screenprinter to cost-effectively handle. PSPs are also seeing the benefits of becoming a "one-stop shop" for customers. Having in-house DTG production allows them to serve their own clients, as well as different types of companies in the graphics world.
The ABCs of DTG workflows
With recent advances in software and printing technology, implementing DTG printing workflows has never been easier. Printer manufacturers recognize operators want to load a file, load a shirt, press "print," and move on to the next one. Using the latest equipment, an operator can be trained within a few hours to navigate a DTG printer's software and system.
Even the largest DTG machines have come a long way in terms of ease of use. When the pre-process is dialed in, the repeatability of the printer's workflow yields high-quality, consistent productivity.
To set up a short run of 50 T-shirts using the same shirt and the same graphic, the operator would simply load the desired file and duplicate it 50 times. They would then load a shirt, print it, load it again, then print it again. The process is essentially to press "print" and go, with only one setup. Without DTG capability, PSPs who offer screenprinting will often turn away orders ranging between 20 and 70 shirts because of the time and costs associated with setting up a multicolour screen print. Turning away these smaller orders means throwing away additional revenue opportunities which add up over time and yielding that business to another provider.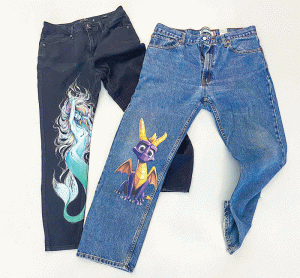 To set up an on-demand print run, files are loaded into the hot folders populating the platens. With a versatile DTG printer, the operator can run T-shirts on all the platens, or arrange its sliding baseplate and platens to run blankets, towels, or sweatshirts. When the files and platens are loaded, the operator simply presses "print."
To print uniquely sized items, certain DTG printers can be outfitted with customized platens. 
Key considerations for purchasing DTG printing equipment
A primary consideration for print shop owners who are evaluating DTG equipment is how well it fits in their available space. The DTG process requires a pre-treat machine and a dryer, in addition to the actual DTG printer or printers, so proper space allocation is imperative.
A second critical consideration is which inks to use. There are a wide variety of ink densities, formulations, and colours. It is important to evaluate the quality of the print on the specific substrates and with the desired pre-treatment options. After reviewing print samples, shop owners can more precisely estimate their return on investment (ROI) for different ink, substrate, and pre-treatment options.
Another important consideration is the level of upkeep required. As with any printer, a clean machine will always provide better, more consistent output. Some DTG printers are self-cleaning and only require a 15-minute cleaning by an operator once a week, while others need more frequent or longer attention. It is beneficial to have a clear understanding of the cleaning and maintenance requirements for any printers under consideration, and to know that the manufacturer will stand behind their products.
Planning for the future
When debating a printer purchase, it is also important to consider what comes next for the shop's growth. Depending on projected sales, it can be advantageous to consider a larger, more productive printer initially and plan to grow into it, rather than looking for a second or larger printer in six months or a year. Next-generation DTG printers can produce as much as three typical DTG printers and only require one operator.
Trends in the DTG sphere
The direction of the DTG market today is a clear move beyond simple T-shirt production. The newest DTG printers offer users the flexibility to print on higher margin products such as backpacks, towels, and blankets. This flexibility also helps shops looking to differentiate themselves by offering a more diverse product line.
Printers equipped with a variety of platen sizes provide users the freedom to instantly scale up to high-volume production or produce short-runs and specialty items. This versatility means PSPs are ready for whatever walks in the door.
In addition, today's printers allow a variety of fabrics including richer materials like cotton and tri-blends, which normally require a larger size platen. With flexible production printers, PSPs can print 1346.2- x 1625.6-mm tablecloths or prefabricated jerseys. It is all about offering a variety of products through the evolution of DTG printing technology.
Looking ahead
Lately, there seems to be a DTG printer on practically every street corner. PSPs are looking for ways to bring their garment business in-house, both to increase profitability and to set their business apart from
their competition.
With rising demand for short-run and specialty printed apparel and fabrics, the future is bright for DTG printing. Offering simplified workflows and more powerful and versatile production, the newest printing technology provides easy and innovative ways for businesses to expand their product line and satisfy their clients. The ability to print on larger and thicker items also provides print shop owners with an opportunity for improved profitability.
As more PSPs see an increased demand for DTG printing, it may be beneficial for them to evaluate their current printer options, as well as the benefits DTG production can bring to their business.
Notes
1 For more information, visit https://www.futuremarketinsights.com/reports/direct-to-garment-printing-market.
Kitt Jones is a co-creation product manager at Roland DGA.
Endnotes:
[Image]: https://www.signmedia.ca/wp-content/uploads/2022/12/Sign-Media-Canada-Kitt-Jones_XL_rotterdam-jean-jacket.gif
[Image]: https://www.signmedia.ca/wp-content/uploads/2022/12/PR_Sign-Media-Canada-Kitt-Jones_XL_xt640-bright-colored-tees_20220920_v01_DG.gif
Source URL: https://www.signmedia.ca/a-direct-hit-how-dtg-printers-are-helping-pros-meet-the-moment/
---