As part of clients' branding efforts, graphic production shops are more routinely being asked to produce short-run and custom apparel. These are projects which are too small for a traditional screenprinter to cost-effectively handle. PSPs are also seeing the benefits of becoming a "one-stop shop" for customers. Having in-house DTG production allows them to serve their own clients, as well as different types of companies in the graphics world.
The ABCs of DTG workflows
With recent advances in software and printing technology, implementing DTG printing workflows has never been easier. Printer manufacturers recognize operators want to load a file, load a shirt, press "print," and move on to the next one. Using the latest equipment, an operator can be trained within a few hours to navigate a DTG printer's software and system.
Even the largest DTG machines have come a long way in terms of ease of use. When the pre-process is dialed in, the repeatability of the printer's workflow yields high-quality, consistent productivity.
To set up a short run of 50 T-shirts using the same shirt and the same graphic, the operator would simply load the desired file and duplicate it 50 times. They would then load a shirt, print it, load it again, then print it again. The process is essentially to press "print" and go, with only one setup. Without DTG capability, PSPs who offer screenprinting will often turn away orders ranging between 20 and 70 shirts because of the time and costs associated with setting up a multicolour screen print. Turning away these smaller orders means throwing away additional revenue opportunities which add up over time and yielding that business to another provider.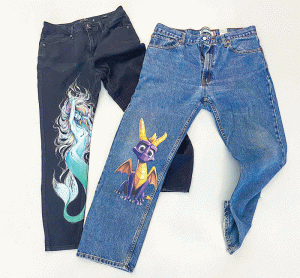 To set up an on-demand print run, files are loaded into the hot folders populating the platens. With a versatile DTG printer, the operator can run T-shirts on all the platens, or arrange its sliding baseplate and platens to run blankets, towels, or sweatshirts. When the files and platens are loaded, the operator simply presses "print."
To print uniquely sized items, certain DTG printers can be outfitted with customized platens. 
Key considerations for purchasing DTG printing equipment
A primary consideration for print shop owners who are evaluating DTG equipment is how well it fits in their available space. The DTG process requires a pre-treat machine and a dryer, in addition to the actual DTG printer or printers, so proper space allocation is imperative.
A second critical consideration is which inks to use. There are a wide variety of ink densities, formulations, and colours. It is important to evaluate the quality of the print on the specific substrates and with the desired pre-treatment options. After reviewing print samples, shop owners can more precisely estimate their return on investment (ROI) for different ink, substrate, and pre-treatment options.