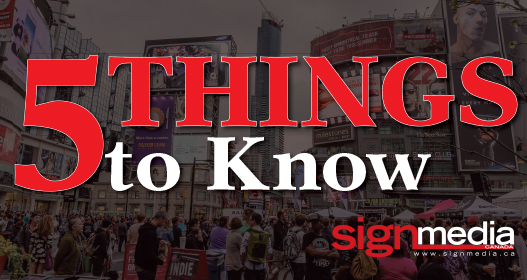 Here's your weekly recap of news from the sign industry:
1. TDH Experiential Fabricators of Surrey, B.C., recently installed logo signage for the city's new Civic Hotel. At more than 160 m (525 ft) above the ground, the project is reportedly the highest mounted signage anywhere in Western Canada.
2. The Specialty Graphic Imaging Association (SGIA) and the American Association of Textile Chemists and Colorists (AATCC) are accepting presentation proposals for their 2018 Digital Textile Printing Conference, to be held in December.
3. Swoop has unveiled its livery by branding the first of six Boeing 737-800NG aircraft with a magenta logo and accented tailfin and winglets. Positioning itself as Canada's only ultra-low-cost carrier, the airline is preparing to launch operations on June 20.
4. Captivate, which operates a digital out-of-home (DOOH) advertising network in North American office towers' elevators and lobbies, has officially expanded in Ottawa with the addition of bilingual content on more than 40 screens.
5. The Toronto Transit Commission's (TTC's) customized June 2018 Metropass features an image of a Pride mural that celebrates the Church-Wellesley Village's lesbian, gay, bisexual, transgender and queer (LGBTQ) community.