Wilson's Shopping Centre: From vision to reality
July 17, 2019
By Aaron Babcock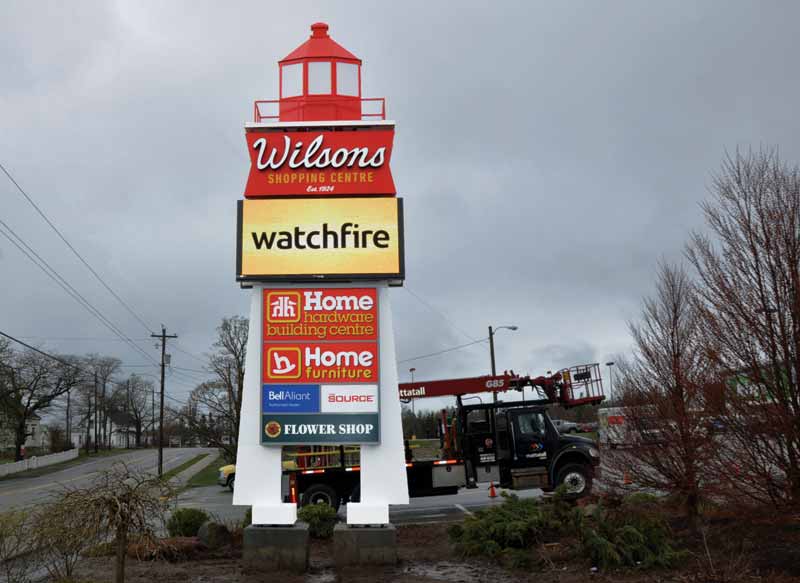 [1]The opportunity to create an original look for this sign was one of those rare pleasures a sign designer looks forward to. Most of a signmaker's work is done for corporate clients who already have a well-developed brand identity. While rewarding in its own right, such work demands a certain level of creative restraint. This was not so for a recent project Mattatall Signs Ltd., in Dartmouth, N.S., completed for Wilson's Shopping Centre.
When its current owner, Mike Wilson and his wife Kerri, approached Mattatall Signs to build a new pylon sign to celebrate the company's 95th year in business, there was little in the way of an existing brand standard to follow. There was, however, the compelling story of what is considered today to be a vanishing breed: a hometown business that has been owned and operated by the same family for generations.
A landmark decision
The owner wanted a landmark to honour the community that has been loyal to his family's business for so many years. Barrington Passage, N.S., is well-known for its connection to the sea and its lobster fishing fleet, which has been the dominant source of employment in the local economy since the community was founded.
There are also a number of local, historic lighthouses in close proximity and a design built around a lighthouse motif was the option Wilson favoured. Although conscious of the fact a lighthouse is somewhat a 'well-used' symbol in many brands coming out of the East Coast, its claim to legitimacy in this specific, local context was undeniable. Further, it was clear in its role as a beacon, landmark, and symbol of a community's traditional identity. This made it unquestionably compatible with Wilson's own brand image.
However, questions that remained included: how far to take this concept and, then, ultimately, how to build it.
Taking care of the basics
During the initial consultation meeting with the Wilson's, the author and Mattatall's account executive, Dan Russell, started by resolving the project's basic parameters such as the sign's allowable footprint and height, as well as the client's wish list (which included two, full-colour electronic message centre [EMC] displays). Then, three design considerations were pencil-sketched, which ranged from purely symbolic (in the form of a traditional pylon sign featuring a lighthouse logo on a sign face) to a full, 3D structure built to look like a real lighthouse (except with signs on it, of course). The third sketch comprised an intermediate option that looked like something in between. Each option had its merits; therefore, the client asked to see what each design might look like in a more real-life setting.
Over the next few days, the author produced three proposal illustrations using Adobe Illustrator, which were based on the conceptual renderings and the ballpark price (for each option) determined by Mattatall's estimator.
The Wilson's decided on the intermediate approach, which comprised an 8.2-m (27-ft) tall, double-sided two-pole pylon sign, containing two 1.22- x 2.4-m (4- x 8-ft) EMC units, 10 tenant boxes, formed pole cladding at the bottom, an indented pylon header with light-emitting diode (LED) illuminated channel letters, and its crowning glory: a custom-fabricated lighthouse top with a functioning LED-lit interior.
The motif
The author's favourite part of the project was actually creating a logo for Wilson's. They did not have one that endured and changed throughout the near century the business existed, but the goal was to create one that looked like they did. To do so, the author drew inspiration from studies on the development of major brands of similar age throughout history in an attempt to create something that looked like the latest update of a much older brand. The use of design legacy features such as the inverted chevron corners of the main box and the custom, hand-drawn script achieved this quite convincingly.
The client loved the finalized proposal right from the start. They gave Mattatall Signs the go-ahead to proceed as presented, and a completion date (which coincided with the business's aforementioned anniversary celebration) was agreed upon. It was a tight timeline, but with some intricate scheduling of production and installation, Mattatall Signs was confident they could not only make it happen, but also ensure it fell within their budgetary requirements.
At the outset, there were some concerns due to restrictions that apply in certain areas along provincial highways (Wilson's store is located along Nova Scotia's famed Lighthouse Route 3) that a sign featuring a full-colour EMC may not be sanctioned by the province's Department of Transportation. However, much to everyone's surprise, the plan received the green light with no issues from the provincial or municipal jurisdictions involved. With permission to build in hand, the next step was pre-production.
From pen to model
Detailed planning, innovation, and ingenuity are key to Mattatall Signs' success and what helps the signmaker standout in the marketplace. That said, the company's drafter, Eric Granholm, converted the author's esthetic conceptual drawing into a working model for fabrication and, from these detailed blueprints, a project schedule was developed.
By taking these measures, the company's talented and skilled team experienced very few hiccups when it came time to fabricate the sign. That said, there was a minor miscommunication regarding the approved version of some of the major brands that were to appear on the tenant graphic panels of the pylon sign's illuminated cabinets due to a very late brand standards update, which was released during the middle of construction. As a result, the vinyl graphics that were originally manufactured had to subsequently be redone, but this all happened in-house prior to the installation.
Mattatall Signs is extremely careful about these things; however, in this case, it could not be avoided. At the pace the sign installer often has to work, mistakes can happen from time to time. Nobody is perfect.
Light at the end of the tunnel
One aspect of construction of particular note was the sign's lighthouse header, which was a labour of love for Mattatall Signs' primary metal fabricator, Terry Companion. He enjoys a challenge, and thrives on unique opportunities where he can step outside the box—something this custom project offered in comparison to traditional signage.
While the design of this pylon sign was essentially two-dimensional—in the sense that its message delivering surfaces were limited to two sides—the header component was crucial in creating the illusion of a full, 3D structure. This is because the sign comprises a somewhat flattened form of a 3D shape, which takes advantage of time-of-day shadows and natural outdoor lighting to sell the illusion to the eye.
His ability to make such a critical part of the project turn out exactly as planned is outstanding. In the end, he and the rest of the build team provided the client with the quality product they wanted in a timely manner.
Thereby lies a tale 
However, no lighthouse story would be complete without a climactic battle with the elements and the install phase of this project lived up to these expectations. Atlantic Canada is notorious for its windy conditions (in fact, the sign bases in this part of the country need to be considerably more robust than elsewhere due to our proximity to the ocean and the powerful winds that come with it).
It just so happened, this sign was scheduled to be installed on a very windy and wet spring day. With a deadline looming, Mattatall Signs' experienced crews defied the wind and rain and in true heroic form had the sign erected in just two days. This gave Wilson's another two days to prepare before their grand celebration which—like the sign built to mark it—turned out to be a resounding success. The rest is history (or a fisherman's tale).
Aaron Babcock is a senior graphic designer and has been with Mattatall Signs for 18 years. He takes a leadership role in the development of original creative and also the faithful adaptation of customer-supplied branding in the design and presentation stage of the company's workflow, and in collaboration with the sales team. He also works closely with the production team to ensure finished products meet design objectives. He attended Crandall University in Moncton as well as the New Brunswick Community College in Fredericton. Babcock can be reached via e-mail at ababcock@mattatall.com.
Endnotes:
[Image]: https://www.signmedia.ca/wp-content/uploads/2019/07/Wilsons-Complete.jpg
[Image]: https://www.signmedia.ca/wp-content/uploads/2019/07/Wilsons-6.jpg
[Image]: https://www.signmedia.ca/wp-content/uploads/2019/07/Wilsons-8.jpg
[Image]: https://www.signmedia.ca/wp-content/uploads/2019/07/Wilsons-4.jpg
[Image]: https://www.signmedia.ca/wp-content/uploads/2019/07/Wilsons-5.jpg
[Image]: https://www.signmedia.ca/wp-content/uploads/2019/07/DSC_6076.jpg
[Image]: https://www.signmedia.ca/wp-content/uploads/2019/07/Wilsons-1.jpg
Source URL: https://www.signmedia.ca/wilsons-shopping-centre-from-vision-to-reality/
---