Sticky Media: A powerhouse of artistic ingenuity
19 November 2020
By Sonia Yooshing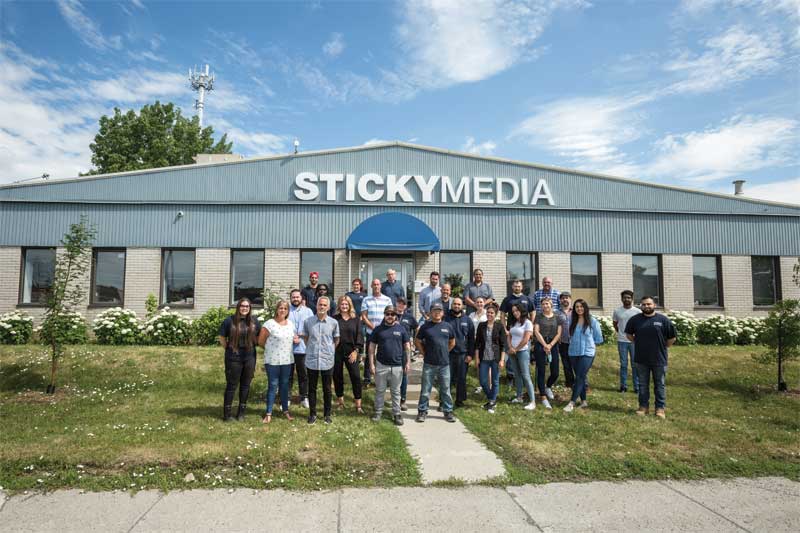 [1]It all started with a sticker several years ago. In 1998, late one night, during the height of Montreal's car-racing scene, two young business graduates sat at an aged kitchen table in the basement of their parents' homes fulfilling small-scale sticker orders with minimal equipment. These young entrepreneurs, driven by their passion for the sport, maintained their corporate day jobs and worked late nights and weekends with a small sticker machine, making car decals with basic tools. A year later, having gained a small yet loyal customer base, they decided it was time to either 'go big or go home.' Slowly, but surely, the duo's dedication and efforts began to pave the path to their venture's success. And today, nearly two decades later, their modest sticker business has multiplied a hundredfold and grown into a production powerhouse, churning out large-format prints, millwork, trade show booths, retail displays, point-of-purchase (POP) signage and, of course, stickers.
Sign Media Canada recently spoke with Daniel Rosen, owner and vice-president of Sticky Media in Montreal, to learn more about the shop's history, signmaking process, recent projects, and how the company has earned the reputation of a trend-setting visual communication provider in North America.
Sign Media Canada (SMC): What makes your company unique?
Daniel Rosen (DR): The ability to adapt to changing trends, technology, and market shifts allows our company to be more than just a vendor to our clients. It enables us to be strategic partners where information is moved back and forth to make sure we provide maximum value and service.
Sticky Media consists of three rapid output divisions—millwork, large-format printing, and signage solutions—that work closely under one roof to ensure our quality and service are regularly monitored.
SMC: How large is the facility?
DR: The company has undergone three large-scale facility expansions—the most recent being 2017 for upgrades in efficiency and to reduce our environmental impact. This improvement included a partnership with Recyc-Quebec, the Quebec society for recovery and recycling, and other organizations, which has led to 80 per cent reduction in operational waste. Our 3066-m2 (33,000-sf) facility was extensively renovated and set up strategically to allow seamless communication across all the departments right through our high-level production spaces.
SMC: What type of signage does your shop primarily make?
DR: Sticky Media is a one-stop shop for all your visual media needs. Our priority is to offer the highest-quality products and services at competitive prices to ensure our customers' satisfaction. We specialize in wall signs; pylon signs; sidewalk signage; large-format banners; informational signage; window, floor, and vehicle graphics, and much more.
SMC: What type of projects have you been working on recently?
DR: We are currently working on a set of channel letters, trying to combine new and old technologies. For this project, we are using open-faced letters with light-emitting diode (LED) neon rope, which will lend a chic retro look to the sign. We are also working on complete store builds for various restaurants. These projects incorporate both our signage and millwork departments. Such jobs are always fun and challenging.
SMC: How much of the signmaking process is handled in-house?
DR: The entire signmaking process is handled in-house. Our team brainstorms ideas with clients to understand their unique needs and bring their dream projects to reality. We also take care of the design, build, sign permits, and installation, adhering to all municipal bylaws and guidelines.
SMC: What tools/equipment do you currently use to complete your sign projects?
DR: We use a variety of tools to complete our projects. We often incorporate different materials to give our signs a unique, edgy look. For example, we often use our millwork department to incorporate wood into our projects and also make use of our print department. That said, we have a range of equipment, including a channel bending machine, a laser machine, two computer numerical control (CNC) routers, metal benders, a full paint shop where we can match any colour in-house, a complete millwork section, two I-cut machines, and two flatbed printers.
SMC: What does your planning and design process involve?
DR: The first step is meeting the client to understand their vision. Next, the creative team works in conjunction with our designers to visualize the finished product. We design renderings and sign permits while taking specific city bylaws into consideration. Once everything is approved by the client and the city, we begin building the sign and planning the installation, as well as applying for any install permits that may be required.
SMC: How is technology changing your business?
DR: All aspects of printing technologies continue to evolve and improve. The greatest improvements can be seen in print processes. Enterprise resource planning (ERP) and pre-press software engineering are reducing production costs through faster press set-up and increased use of computer-controlled automation steps at almost all stages.
SMC: What is the key to staying successful in this industry?
DR: The key to our success includes competitive prices, impeccable customer service, and quick turnaround times. We have always run a boutique-style business.
No matter how busy we may get, for us, customers come first, always!
SMC: What are the future plans for your business?
DR: Before the pandemic hit us, we were growing our business in trade shows, events, and custom buildouts. We are now working on more standard projects, but anxiously waiting to return to our plan once the economy recovers.
SMC: How has COVID-19 affected your business? Are there any tips/best practices you can share to help industry professionals get through these difficult times?
DR: Lately, as is the case with most print shops and sign companies, we have been producing large amounts of decals and face shields. It is challenging to complete projects with a skeleton crew and social distancing measures in place, but we have a dedicated and hard-working team that goes above and beyond to get the work done.
We have been honest with our clients since the beginning and never tried to capitalize off their misfortunes. Sticky Media takes pride in offering customers exceptional solutions at cost-effective pricing.
SMC: Has your shop produced any COVID-19-related signage?
DR: We were able to offer a variety of products to help our clients keep themselves protected during these times. Our shop produced floor decals, window signage, face shields, desk dividers, and hand sanitizer stands. Our print room and CNC machines had been running non-stop to ensure the orders were completed and shipped out on time.
Endnotes:
[Image]: https://www.signmedia.ca/wp-content/uploads/2020/11/StickyStaff20-3-2.jpg
[Image]: https://www.signmedia.ca/wp-content/uploads/2020/11/BF-XPN-21-of-44-1.jpg
[Image]: https://www.signmedia.ca/wp-content/uploads/2020/11/BF-XPN-18-of-44-1.jpg
[Image]: https://www.signmedia.ca/wp-content/uploads/2020/11/AC1F69CC-49DF-4F1A-9E00-BE2A5EA206CC.jpg
[Image]: https://www.signmedia.ca/wp-content/uploads/2020/11/0D6D753D-1B88-44C0-A4A7-63270974B226.jpg
Source URL: https://www.signmedia.ca/sticky-media-a-powerhouse-of-artistic-ingenuity/
---