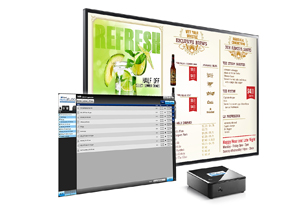 Roland DGA is offering a 25 per cent discount on its DisplayStudio digital signage system for a limited time in Canada and the U.S.
Traditional sign shops can create new revenue streams with Roland DisplayStudio, as it helps them introduce print customers to digital signage. The complete turnkey system allows signmakers to integrate digital signs with printed output for point-of-purchase (POP) graphics, retail signage, event graphics and many other applications.
Roland offers both a "Digital Sign in a Box" package, which includes the media player, software, monitor, High-Definition Multimedia Interface (HDMI) cable and mounting hardware, and a "Bring Your Own Display" version, which omits the monitor.
The discounted systems are available through authorized dealers and Roland's online store until December 31, 2014.
Contact: Roland DGA, www.rolanddga.com/displaystudio