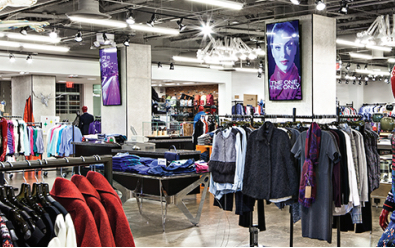 While it has become common for retailers to use digital signage as an additional form of product advertising, deployments of the technology are also being taken a step further with a focus on enhancing the shopping environment and giving customers a unique experience.
Hallmark Cards, by way of example, has expanded into designer fashion brands, beauty products and home décor with its own 'Halls' specialty department stores. To make these stores stand out and keep up with contemporary trends, the company has turned to digital signage software-as-a-service (SaaS) from Industry Weapon to design, schedule and display multimedia content across a network of screens.
"We needed a solution that complemented the elegance of our product line while creating an immersive customer experience," says Carnie Cline, vice-president (VP) of creative services for Halls.
As Cline puts it, digital signage can be used in a variety of ways in retail stores to engage customers and evoke a unique brand experience beyond that of static signage. As such, rather than rely on traditional printed marketing materials, Halls now custom-produces multiple dynamic campaigns, switching between them depending on the demographics and activities of its customers at any given time and location.
"Not all shoppers are wired the same way," says Cline. "Companies need to consider what speaks to certain people and what turns them away."
Halls also varies content from department to department. According to CMO.com, Adobe's website for chief marketing officers (CMOs), targeted marketing is twice as effective, on average, as non-targeted marketing.
"We are greatly benefiting from going digital," says Cline. "We can blend new technologies and create experiences that complement our products without distracting from them."