Out-of-home (OOH) advertising was one of the sectors most impacted by the pandemic, and research shows investment in digital out-of-home (DOOH) advertising in Canada dropped by nearly a quarter from 2019 to 2020.
Despite this, with many parts of the world showing signs of economic recovery, and audiences once again returning to shared spaces, the DOOH industry is expected to bounce back, largely driven by programmatic DOOH. The sector is expected to expand by roughly 12 to 15 per cent, reaching $929 million by the end of 2023, as more and more advertisers are waking up to the unique benefits it provides.
Programmatic technology in the OOH space has revolutionized the old manual IO process where OOH trading was once negotiated exclusively by people, involving location scouting, lengthy negotiations, trafficking, and charting. This offers unique benefits for brands, agencies, media owners, and audiences alike. Here are the key benefits programmatic DOOH advertising can offer brands and why the technology is revolutionizing the sector.
The 3 Fs: flexibility, fluidity, and future-proofing
Advertising and marketing budgets were the most vulnerable during the pandemic, as businesses tried to stay afloat by scaling back. Post-pandemic, marketers need to know they are getting the most bang for their buck, so they are seeking solutions that prioritize campaign measurement and budget fluidity.
Programmatic pricing models have always been flexible, empowering brands to dial up or dial down their spend based on campaign performance or factors outside the company's control. This is also true in the DOOH space where marketers can adjust campaign parameters and even pause campaigns in real time—something totally unique to the channel. The traditional OOH model sees campaigns purchased weeks, often months, ahead of time, leading to messaging being 'locked in' and unable to adapt to changing external factors. Unlocking the ability to optimize campaign flighting and delivery in real time has been widely adopted, allowing programmatic DOOH to be a more reactive channel than others in a brand's marketing mix.
The options of Open Exchange and Private Marketplace (PMP) deals, powered by programmatic, gives buyers an unprecedented overview of the whole market via one consolidated dashboard. From this control centre, they can get a holistic view of the entire campaign lifecycle and adjust the pace of delivery in response to real-time performance metrics delivered directly to them.
Right place, right time, right audience
The effectiveness of OOH and DOOH advertising often comes down to location. Brands and advertisers can leverage the power of location targeting to engage the most relevant audiences with the most relevant contextual messaging.
While traditional location-based campaigns, bought in advance, can leave advertisers on the back foot when consumer behaviours shift, programmatic DOOH can increase effectiveness and adaptability, using mobile location ID to provide data-driven effectiveness; something traditional OOH campaigns can't offer. Activations can be based on factors, including weather, temperature, traffic, and audience movement to determine when, where, and how DOOH inventory can be used to provide maximum reach and consumer engagement.
Advertisers can fine tune how their campaigns are targeted with parameters such as audience concentration, geofencing, weather conditions, and audience proximity to a particular point of interest. They are then able to drill down further, identifying specific audience segments to be targeted based on anonymized data, including inputs such as dwell-time, footfall density, affinity, and personas. This data-rich environment of thoroughly vetted mobile location data empowers advertisers, allowing them to deliver creative to the most receptive target audience at the right moment to increase its lasting impact and drive marketing outcomes.
Programmatic proof points
A historic challenge for OOH campaigns has been effective measurement; knowing who viewed an ad when, and what impact it had on the potential customer. With OOH being a one-to-many, offline channel, there is no direct return path for creative as there is with digital advertising, where online tracking paints a picture of effectiveness in real time.
Programmatic DOOH gives advertisers a solid set of proof points to evidence campaign effectiveness, and the ability to both map consumer journeys through to purchase and link business outcomes to DOOH ad exposure. Marketers have access to a comprehensive overview of a campaign's impact on awareness, consideration, and intent through to conversion, all while respecting user privacy. This last factor is growing increasingly vital as the industry conversation around privacy and data management grows ever louder.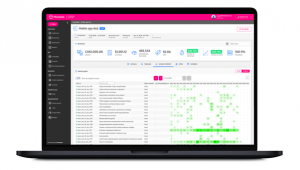 Using mobile location data, marketers can geofence DOOH screens in specific areas, and then analyze (on a huge scale) the mobile handsets that pass by those screens, matching these to play logs to build large audiences of consumers exposed to those screens. Brands with physical stores are then able to use programmatic DOOH platforms to measure and report on in-store footfall related directly to DOOH ad exposure.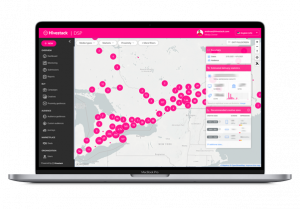 Meanwhile, brands without a brick-and-mortar location, unable to benchmark or link campaign effectiveness to footfall, can still use programmatic DOOH to measure the impact of their campaigns. Analytics integrated into programmatic DOOH campaign dashboards can feed back metrics on audience behaviours that relate to specific campaign goals such as brand lift.
Programmatic DOOH is fast transforming the OOH industry, combining the scale of OOH advertising with data-driven targeting capabilities, buying agility, and unprecedented measurements, positioning the channel as an integral part of brands' marketing mix.
Ben Bookbinder is the managing director, Canada at Hivestack. Bookbinder, a media professional in digital marketing and programmatic, joined Hivestack in April 2019. He drives the strategic growth of the Hivestack Canadian business. Previously, Bookbinder held the role of strategic partnerships director at former WPP programmatic ad-tech company, The Exchange Lab.