Media trends
A key benefit of wide-format devices is they can print on a wide variety of media types. This is especially true for flatbed printing devices, as they can print directly on materials like wood, metal, plastic, glass, fabric, and many other options. Wide-format media is either flexible or rigid. According to survey respondents, 76 per cent of wide-format output was produced on flexible media. and 24 per cent was on rigid media.
The survey then asked respondents about the percentage of their work that was produced on various flexible substrates, including paper, film (excluding vinyl), banner vinyl, pressure-sensitive vinyl, canvas, fabric/textiles, and polycarbonate. Overall, pressure sensitive-vinyl (33 per cent) was the most used media, followed by banner vinyl (29 per cent) and paper (21 per cent).
According to the study, the most used flexible media types varied by company. Specifically:
Commercial printers, digital print specialists, and ad specialty providers most commonly used paper and banner vinyl; and

Sign and display providers and screen printers were more likely to print on pressure-sensitive vinyl and banner vinyl.
Across all company types, coroplast was the most frequently used rigid media. Rigid PVC was also popular across a variety of provider types.
Workflow: The untapped opportunity
Workflow represents an untapped opportunity in the wide-format production process as many survey respondents have not yet invested in workflow tools to improve inefficiencies and automation. Respondents reported high ownership of colour management software, likely because colour profiling is essential, given the wide range of substrates that are used.
Workflow management is an important software category that is largely overlooked in this industry; most operations do not own workflow management software. Commercial printers and ad specialty providers were more likely than the other company types to report owning workflow. It is worth noting that workflow software is firmly entrenched among commercial printers, largely because it is required for efficient production.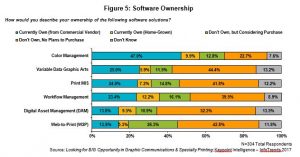 Workflow management software automates production processes, and it is needed to process an increasing number of jobs and efficiently support online ordering. As wide-format printers increase in speed, prepress and finishing are often the workflow bottlenecks. A key remaining bottleneck in prepress is file handling, which is often completed by hand.
Shops must automate to improve their customer experience and remain competitive. Online ordering with automated pass through to the rest of production is key. Resources (materials, machines, and people) must also be optimized. Sheet optimization via nesting/ganging of work to save material costs and production times offers quick cost savings that typically range from $8000 to $13,000.
Another software category that many wide-format providers are ignoring is the print management information system (MIS). A print MIS is the single system of record used to store and share business-critical information within the print shop as well as to all external constituents in a timely and efficient manner. A properly implemented print MIS solution functions as the pulse and brain of a print shop.
Using an MIS system offers many benefits, including more accurate estimates, better job tracking, and identifying areas that need improvement.
[BIO] Lisa Cross is associate director for Keypoint Intelligence—InfoTrends' Business Development Strategies service. Eve Padula is a senior research analyst for Keypoint Intelligence—InfoTrends' Business Development Strategies, Customer Communications, and Wide-format Consulting Services, while Steve Urmano is director of InfoTrends' Wide-format Printing Consulting Service. Urmano develops InfoTrends' annual global market forecasts for hardware and supplies used in the wide-format printing markets.