By Lisa Cross, Eve Padula, and Steve Urmano
Ongoing market changes and new developments in material science have forever changed the technology landscape. Many new avenues for revenue are surfacing as providers look to take advantage of innovations and leverage existing investments.
As such, graphic communication providers are investigating new ways to grow their businesses, and sign, display, and specialty graphics represents a solid business opportunity for a variety of print service providers.
Increased competition has many firms looking to offer new products and services to bolster business from current customers, while also attracting new ones, according to an International Sign Association (ISA) report, 'Looking for Big Opportunity in Graphic Communications & Specialty Printing'.
Indeed, many providers are considering expanding into adjacent service markets where they can leverage their existing operational knowledge. To that end, firms are investing in wide-format printing devices, software, and media/substrates to further differentiate from competitors, grow revenues, and improve efficiency.
Recommendations for business growth
Consider adding or expanding offerings: Sign and display graphics is a growing market that offers many opportunities across a variety of industries. Print providers that are seeking to expand their product offerings should consider offering sign and display graphics. Companies that are already offering these products may have an opportunity to increase their market share by expanding their product lines or entering new market segments.
Be strategic: Although the wide-format signage and graphics market is expanding, the firms that serve it must uncover and implement strategies to ensure ongoing growth. Successfully growing and expanding wide-format service capabilities starts with building on current capabilities and customers to develop new applications. Target marketing is another important strategy for consideration. An interesting finding from the study was that many providers are embracing a vertical market strategy. Firms with a strong vertical focus can capture more attention in the market, become viewed as experts within their segments, market more effectively, and productively sell to a targeted client and prospect base.
Automate and optimize operations: Many providers have not invested in workflow software, so there is an untapped opportunity to automate production processes to improve the customer experience and remain competitive in this ever-expanding market. In addition, real-time information is critical to daily business decisions. Do you have the capacity? Can you drop your margin and still be profitable on a job? Software tools will become even more indispensable going forward. Wide-format shops that do not modernize their operations, including their business workflow, are sabotaging their future success.
To learn more about print providers' wide-format investment plans, business priorities, workflow challenges, media/substrate usage, and application growth, Keypoint Intelligence—InfoTrends recently surveyed more than 300 companies, including commercial printers, sign shops, digital print specialists, screenprinters, and ad specialty providers. The following highlights the key findings from that research.
Sign and display graphics market growing
A key finding from the research study is that wide-format print is a growth market. Overall, the majority of respondents reported their wide-format print volume was increasing. In fact, respondents reported increases in wide-format volume outnumbered those reporting decreases by 17 to one. In addition, survey respondents expect wide format print volume to grow 31 per cent annually.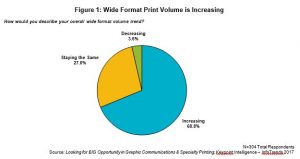 Firms that reported increasing print volume growth had the following similarities:
They were expanding the applications they produced to appeal to new markets;

They were adding services to become one-stop providers; and

They were focusing their marketing efforts on vertical industries.