According to survey data, some of the key industries that purchase digital wide-format printing include retail, advertising, education, real estate, construction, restaurant/food service, manufacturing, personal services, healthcare, and non-profit.
When respondents were asked to identify key factors that were driving investments, the top responses were:
Expanding business;

Customer demand for new products;

Upgrading/replacing older equipment;

Reducing costs; and

Adding capacity.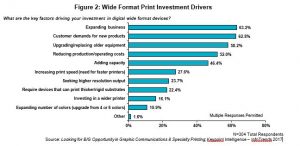 Increasing demand for short turnaround
Job turnaround requirements for wide-format print work are becoming shorter and shorter. For all company types surveyed, the majority of wide-format work is produced in less than 24-hours. In addition, respondents expected the demand for fast turnaround to increase.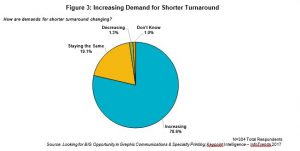 Many key wide-format buying industries such as retail, advertising, events, and real estate, require fast turnaround because they are faced with staff constraints, compressed communication production cycles, and short delivery windows for finished signage.
Digital wide-format printing has changed print buyers' expectations for fast turnaround. While certain types of wide-format jobs like store remodels, large regional/national promotions, or events, have a long sales cycle, they will tend to have a short production cycle. Print buyers want to see the effects of their campaigns and change out signage more frequently as a result.
 Top profitable applications by technology
Wide-format applications are becoming increasingly diverse, providing many opportunities for new entrants that are hoping to expand their offerings as well as for established sign, graphics, and visual communications companies that want to increase their market share. Respondents identified banners, vehicle graphics, signs, and wallpaper/interiors as their most profitable applications.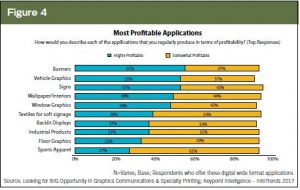 Most respondents owned UV-flatbed, solvent, and eco-solvent devices. Aqueous devices were more common among commercial printers, digital print specialists, screenprinters, and ad specialty providers. Commercial printers, sign and display shops, and digital print specialists invested the most in latex devices. The top applications that respondents produced on various devices are summarized in Table 1, along with important technology considerations.