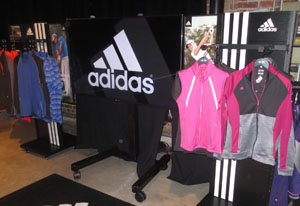 By Lyle Bunn
The sixth annual Digital Trends Showcase (DTS), which was held at Toronto's Steam Whistle Brewery on October 7 and 8, showcased a range of digital signage and related 'engagement scenarios' by using a single brand, Adidas Golf, and a layout resembling a nine-hole golf course.
Out of 450 preregistered attendees, approximately 10 per cent were signage providers. The majority were brand marketers, ad agencies, retailers and integrators.
Representing the various pieces of the digital signage puzzle, DTS was a collaboration between this author, display manufacturer LG, software provider Dot2Dot Communications, deployment specialist TechTap, outdoor screen manufacturer VertiGo Digital Displays, display engineering firm Design Science, installer Coxcom, design firm Shikatani Lacroix Brandesign and Internet Protocol Television (IPTV) equipment manufacturer Visionary Solutions.
"No single firm can provide all of the elements," explained Mark Mantha, president of Man-Mac Consulting, who helped manage and administer the event. "Through this collaboration, we were able to illustrate while technologies are key, the real issue is in the application of digital media for brand-building."
Indeed, now that digital place-based media have 'grown up,' there is a greater focus on increasing the return on marketing, investing in communications and retail design to amplify brands, triggering the desired actions and improving the ambiance, vitality and appeal of the deployment location.
"Digital signage is not just for media presentation, but should also be considered for viewer engagement," said Tobin Costante, national technology manager for LG Electronics Canada's business solutions division. "It is a question of using media along the path to purchase."
"We are seeing more retailers using technology to bring the online and social media experience into their stores," said Andy McRae, general manager (GM) of Dot2Dot. "DTS 2014 gave them the opportunity to experience engagement through the eyes of an Adidas Golf customer, with hands-on demonstrations using real products, imagery, touch and gesture interactivity, gamification and mobile integration. And analytics illustrated how the engagement experience is relevant in improving the shopping experience and increasing sales."
Lyle Bunn is a digital signage analyst, consultant and educator based in Brighton, Ont. For more information, visit www.lylebunn.com.