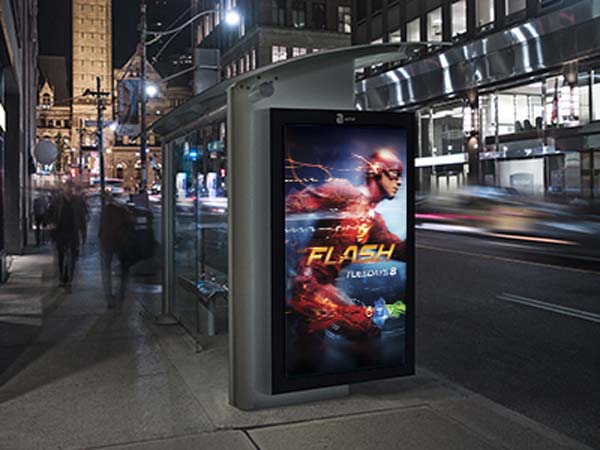 Astral Out-of-Home announced it will deploy 40 digital signs at Toronto Transit Commission (TTC) shelters by December. The network will reportedly be Canada's first to display advertising campaigns in '4K' ultra-high-definition (UHD) resolution.
Designed by Toronto-based Kramer Design Associates (KDA), the new digital transit shelter faces will be deployed in strategic locations throughout the city's downtown area. Each 2.1-m (84-in.) liquid crystal display (LCD) screen will be programmed on demand and managed remotely from Astral's broadcast control centre.
"We thrive on innovation and our commitment to be a Canadian leader in digital advertising," says Luc Quétel, president of Astral Out-of-Home.
Astral operates Toronto's street furniture program as a partner to the municipal government, currently in the eighth year of a 20-year contract. In May, city council approved the plan for Astral to install poster-size digital signs in up to 120 TTC shelters over three years. Under the agreement, the screens may display 'electronic static copy,' enabling images to be changed every few seconds, but prohibiting full-motion video and animation.
The goal of adding 40 digital sign faces to existing transit shelters by December is to have them fully operational in time for the holiday season, the advertising community's busiest time of year. Plans to expand the network further will continue into 2015.
"We are committed to offering advertisers new opportunities to reach consumers," says Jordana Fatsis, vice-president (VP) of sales. "We are doing that by adding these digital faces in Canada's largest market."
In addition to some 2,500 bus and streetcar shelters in total, Astral's Toronto street furniture program includes litter and recycling bins, newspaper boxes, information pillars with neighbourhood maps, public service announcement (PSA) columns, bicycle racks, benches and automated public restrooms.