5 things to know: Your weekly roundup
July 26, 2019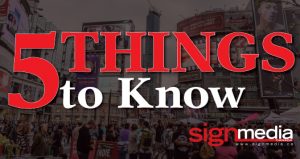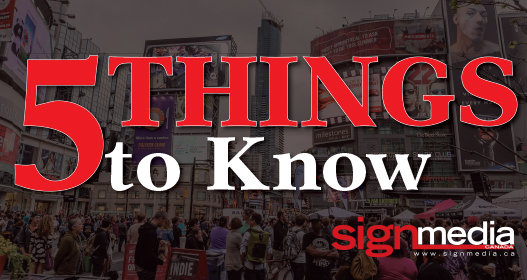 [1]Sign Media Canada brings you this week's latest news from the sign industry with the weekly roundup.
1. Inkjet technology company Xaar is celebrating the 20<sup>th</sup> anniversary of its 128 printhead. [2]
2. Signarama Canada has joined forces with the Sign Association of Canada. A natural progression for one of the leading sign franchises in Canada.[3]
3. Pattison Outdoor Advertising has been awarded a multi-year advertising program with Nieuport Aviation Infrastructure Partners (Nieuport Aviation).[4]
4. Specialty Graphic Imaging Association's (SGIA's) inaugural WB/Camp is open for registration. The event is sponsored by Bella + Canvas and others.[5]
5. Gregory Signs is seeking new ways to implement their creative ideas in a way that singles out their client's business from the rest.[6]
Endnotes:
[Image]: https://www.signmedia.ca/wp-content/uploads/2018/08/SM_5-things-to-know_HR-4.jpg
celebrating the 20<sup>th</sup> anniversary of its 128 printhead. : https://www.signmedia.ca/xaar-printhead-celebrates-20th-birthday/
A natural progression for one of the leading sign franchises in Canada.: https://www.signmedia.ca/signarama-partners-with-sign-association-of-canada/
Nieuport Aviation Infrastructure Partners (Nieuport Aviation).: https://www.signmedia.ca/advertising-contract-awarded-to-pattison/
The event is sponsored by Bella + Canvas and others.: https://www.signmedia.ca/registration-opens-for-sgias-first-wb-camp/
new ways to implement their creative ideas in a way that singles out their client's business from the rest.: https://www.signmedia.ca/gregory-signs-a-one-stop-solution/
Source URL: https://www.signmedia.ca/5-things-to-know-your-weekly-roundup-6/
---