By Sonia Yooshing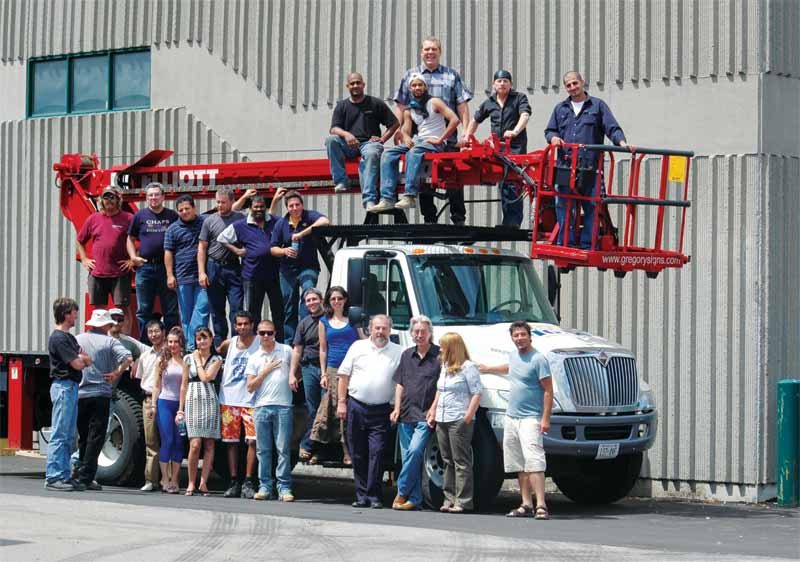 Signage is a crucial component of any successful business's identity; therefore, it is imperative a sign projects a consistent and appealing message for its clientele. Whether it is starting a business or rebranding one, the most important, and perhaps the most challenging, task of all is drawing the attention of potential customers to one's work and painting the business's reputation in the most positive light.
Boris Kaminsky, vice-president of sales and marketing for Vaughan, Ont.-based Gregory Signs, believes the sign shop has been successful in accomplishing this and much more. Finding the precise words, as well as the right channel and images to promote one's business to a targeted clientele, is an indispensable part of the job and mandates the attention of an expert. Needless to say, if the task is handled efficiently, it can set the pace for a lucrative undertaking.
At Gregory Signs, companies of all size find the advertising expertise they need to help differentiate their business from the competition. "You only have one shot upfront to get your message across to the potential customer, so make it count," says Kaminsky.
When it comes to branding, the design team at Gregory Signs is always on the lookout for new products and technology, and is constantly seeking new ways to implement their creative ideas in a way that singles out their client's business from the rest. Whether it is a logo for a startup or redesigning one for an existing business, the sign shop provides the best product and value to its customers.
Sign Media Canada recently spoke with Kaminsky about the company and their signmaking process, what the future entails, and any interesting projects in the pipeline.
Sign Media Canada (SMC): What is the history of the sign shop and how has the business evolved over the years?
Boris Kaminsky (BK): Gregory Signs started as an engraving shop in 1981 and has expanded over the years to meet customers' demands. We now provide a range of services including designing, consulting, manufacturing, and installing custom signage, sign systems and programs. In addition, we also create outdoor advertising packages.
Today, the manufacturing facility is nearly 1858 m2 (20,000 sf) while the sales unit and showroom spans approximately 372 m2 (4000 sf). The business has evolved by leaps and bounds, as is evident from our extensive portfolio, with our clients spread out across North America.
Our mission is to earn the recognition of our customers, employees, suppliers, and the community as one of the highest quality performers—in every aspect of our operation—in the sign industry. To accomplish our goals, we ensure our customers receive the best overall value for the products or services they purchase; we work hard to make this process as convenient as possible.
Our team constantly strives toward improving their methods of production and service range to maintain our position as a market leader. We collaborate with our clients to develop products that not only meet their specific needs, but also help create an enviable first impression.
SMC: What type of signage does your shop primarily make? How much of the signmaking process is handled in-house?
BK: Our sign shop specializes in custom interior and exterior signage. Nearly 99 per cent of the work is done in-house. We do everything, from canopies and awnings to channel letters, light-emitting diode (LED) boards, fascia boxes, plaques, menu boards, and architectural custom displays. The company also specializes in services such as exporting, consulting and project management, permits, and site surveying. We offer a one-stop solution for our clients.
Your sign is a direct reflection of your business's image, and Gregory Signs can help you build one. Our unswerving commitment to quality craftsmanship empowers us to gladly take on challenges (no matter how big or small).