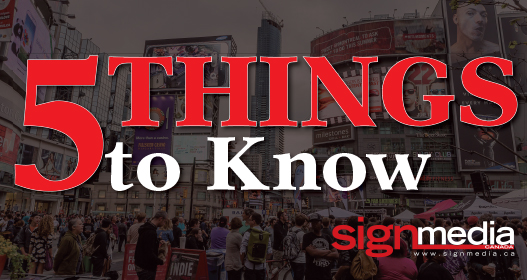 Here's your quick afternoon update on news in the sign industry:
1. Canadian digital signage projects picked up one-third of the 2018 Apex Awards—nine out of a total of 27—at a special ceremony during last month's Digital Signage Expo (DSE) in Las Vegas, Nev.
2. Astral's ninth annual Carte Blanche digital out-of-home (DOOH) advertising competition is now open to submissions for Western Canada (Vancouver, Edmonton and Calgary), Toronto and Quebec. The deadline for entries is Apr. 16, 2018.
3. The Digital Signage Federation's (DSF's) annual Geri Wolff scholarship has been awarded to Sonia Darlison, a student at Ontario's University of Waterloo, to be applied to her academic fees for her senior year.
4. Andre Bergeron, general manager (GM) of TAS Films in Laval, Que., has designed, produced and installed new signage for Sucrerie des Plaines, a family-run maple syrup producer, using Drytac's Polar Grip self-adhesive media and Interlam polyvinyl chloride (PVC) film.
5. Toronto-based Entro developed a large-scale environmental graphic design (EGD) and wayfinding signage program for CampusOne, a new 890-bed student residence near the main University of Toronto (U of T) campus.