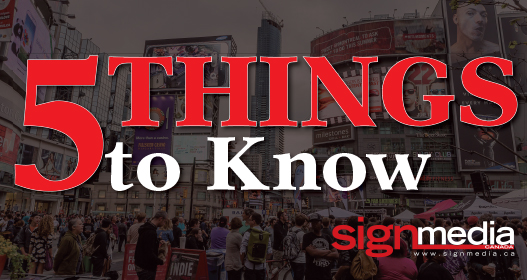 Here's your quick morning update on news in the sign industry:
1. Montreal Neon, which designs, produces, installs and maintains signs and is headquartered in Laval, Que., recently ran a competition with local schools, where students were asked to design a sign in celebration of Canada's 150th birthday.
2. A+A Graphics Canada, a Toronto-based commercial printing company, has installed a Jeti Mira MG 2732 high-speed (HS) ultraviolet-curing (UV-curing) light-emitting diode (LED) printer manufactured by Agfa Graphics in nearby Mississauga, Ont.
3. Cineplex Digital Media (CDM) was recently selected to install an in-store digital signage and kiosk network for a new Toys R Us concept location in Langley, B.C., which will allow customers to browse all of the retailer's products.
4. The global market for aluminum composite panels (ACPs), as used in the sign industry, is projected to experience a compound annual growth rate (CAGR) of six per cent through 2021, according to a new report from Technavio, a technology research and advisory firm.
5. 53 Colours Signs & Printing in Carleton Place, Ont., has installed a VersaCamm VS-540i wide-format printer from Roland DGA, allowing the company to promise its clients shorter wait times for signage.