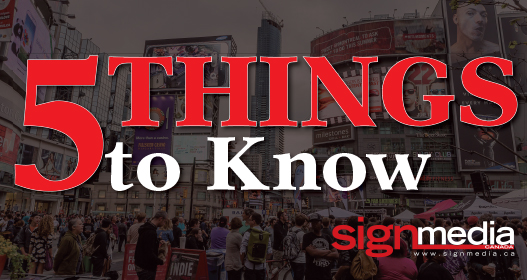 Here's your quick morning update on news in the sign industry:
1. The International Sign Association's (ISA's) 2017 International Sign Expo, which was held last month in Las Vegas, Nev., ranked as the largest yet, with more than 20,500 visitors breaking previous overall attendance records.
2. Using eye-tracking technology, a transit shelter screen in Quebec City was turned into a classic game of 'pick a card.' Commuters were asked to focus on one of several cards displayed and then, as if by magic, were shown the one they had been focusing on.
3. Rexall has opened a flagship drugstore in Toronto's Brunswick House (fondly referred to as 'the Brunny'), restoring and integrating the former hotel, bar and music venue's signage and event posters into the new layout and design.
4. Out-of-home (OOH) advertising continues to deliver a very high level of 'reach' for consumers during purchasing activities, at 85 per cent, according to a new TouchPoints study shared by the OOH Marketing Association of Canada (OMAC).
5. The Toronto Transit Commission (TTC) has launched a system-wide courtesy campaign, using posters featuring actual tweets from passengers to help encourage polite and considerate behaviour while travelling on its vehicles.