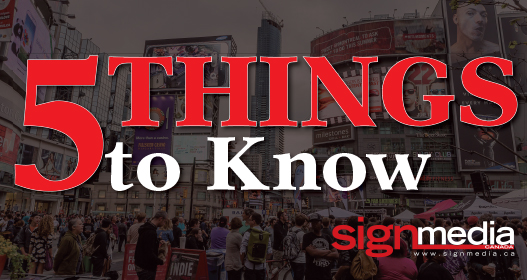 Here's your quick afternoon update on news in the sign industry:
1. Eventscape recently engineered, fabricated and installed new storefront façades at Toronto's Yorkdale Shopping Centre for two upscale watch retailers: Italy's Panerai and Switzerland's Vacheron Constantin.
2. In a new report titled 'Wayfinding Management: Models & Methods in Healthcare Environments,' the Sign Research Foundation (SRF) offers protocols to make it as easy as possible for visitors to navigate large, often overwhelming facilities.
3. Gorway, a sign shop in Kingston, Ont., has been awarded the Young Electric Sign Company's (YESCO's) service franchise for Eastern Ontario. Operating as YESCO Ontario East, it will repair all types of signs and lighting.
4. The theme for this year's Printeriors showcase of printed interior decor applications is the airport lounge of the future, reimagining passengers' arrival and transfer experience with customized wallcoverings, flooring, window graphics and furnishings.
5. Digital billboard manufacturer Daktronics recently provided four light-emitting diode (LED) displays for three Cadillac Fairview (CF) shopping malls across Canada, including Calgary's Chinook Centre and Toronto's Sherway Gardens and Eaton Centre.