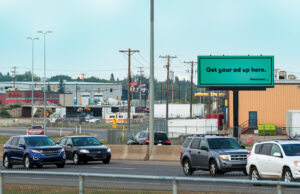 VENDO Media has announced an exclusive sales representation of Directwest's Outdoor Digital assets across Canada, except within the province of Saskatchewan. Directwest also announced exclusive sales representation of VENDO Media's Outdoor Digital assets within the province of Saskatchewan.
Directwest is a leading outdoor digital provider in Saskatchewan with coverage across 21 markets and almost 70 digital faces. Directwest's provincial reach extends from the top markets of Saskatoon, Regina, Prince Albert, Swift Current and Yorkton to secondary towns. They are also members of COMMB.
"Adding Directwest to VENDO's existing Saskatchewan assets, makes us the dominant outdoor digital supplier in the market, with over 70 per cent of all digital boards in Saskatchewan across 26 markets. That is phenomenal," said Sylvio Deluca, COO of VENDO Media.
"We're thrilled to bring this inventory to a national advertiser audience and make the buying of Saskatchewan easier for OOH buyers. Additionally, it enhances VENDO Media's national offering to over 350 outdoor digital faces across Canada", remarked Deluca.
"Directwest's partnership with VENDO Media offers us the chance to work with large, national brands on our digital billboards across the province of Saskatchewan," said Keith Jeannot, President and CEO of Directwest. "Exposure to national brands will help us showcase the OOH reach we have within the province and increase the visibility of our boards benefitting our other customers as well. It's a win/win partnership," Jeannot continued.