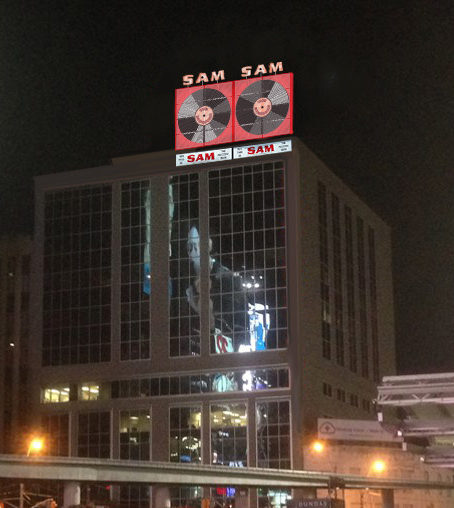 Ryerson University has commissioned Sunset Neon of Burlington, Ont., to restore and reinstall the iconic Sam the Record Man signs atop 277 Victoria Street in downtown Toronto, near the former music store site and Yonge-Dundas Square.
Before the store was demolished to make way for a new Ryerson building, its famous neon 'spinning records' were dismantled by Gregory Signs & Engraving of Concord, Ont., and put into long-term storage, where they have remained since late 2008. They will now be refurbished for their new permanent home (as pictured), with installation scheduled for this summer.
Ryerson is covering all restoration, installation and ongoing maintenance costs under its agreement with the city regarding the heritage-certified signage.
"We are pleased to announce the spinning neon discs will once again illuminate downtown Toronto," says Mohamed Lachemi, Ryerson's president and vice-chancellor. "We're very thankful to the city of Toronto for its support and patience."