Sign Shop Profile: Duff Graphics
April 13, 2012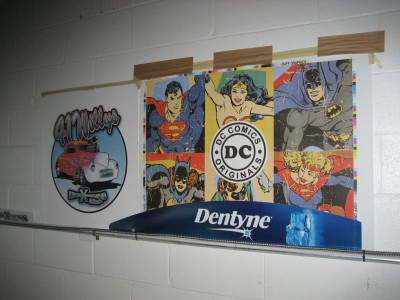 [1]By Daniel Austin
Duff Graphics in Concord, Ont., has been serving the graphics sector of the sign industry since 1968. As such, it has needed to evolve to keep up with many technological developments over the years.
Currently, the shop's services include large-format digital printing, image setting and camera fine lines, digital photography, image assembly and high-resolution drum scanning. Indeed, it is one of the few remaining film houses, not just an outputting bureau.
In terms of large-format printing, the company offers such products as point-of-purchase (POP) displays, backlit posters, banners, display cards, pole signs, vehicle and trailer decals, floor graphics, transit signs, full-size standups, trade show displays and window graphics, among other applications. Its equipment can print on flat substrates up to 51 mm (2 in.) thick, including polyvinyl chloride (PVC), canvas, backlit film, banner material, decals, corrugated cardboard, polypropylene (PP), photobase papers, polystyrene (PS), foam boards, card stock, clear and white cling vinyl, polyethylene terephthalate (PET), corrugated plastic sheets and wood.
In fall 2011, Duff Graphics made its latest capital investment to keep up-to-date with changes in the sign industry. The company purchased a computer numerical control (CNC) router-knife machine, which it now relies upon when working on signs and graphics that call for contour cutting.
Over the past few years, there has been a growing trend within the sign industry to complement flatbed printers with contour cutting systems. With an increasing number of large-format presses able to print on a wider variety of substrates—including vinyl, wood, canvas, corrugated plastic and foam board—sign shops also need routing equipment that can accurately cut these materials of various thicknesses.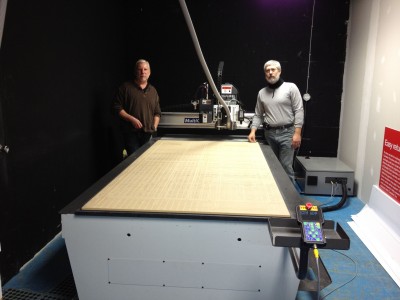 [2]When cutting through 5-mm (0.2-in.) thick polystyrene, for example, a router can achieve the desired results, whereas a knife would typically break. At the other end of the spectrum, when an extremely thin material requires a clean finish, a drag knife—i.e. which pierces through the material once and then drags all the way through the entire job—is a suitable option.
In today's industry, sign shop owners do not want to limit themselves with too-specialized equipment, but still need high levels of precision for their output to stay competitive. These trends are highlighting the importance of versatility, boosting demand for signmaking equipment with multiple capabilities.
These trends are also why Peter Duff, current president of Duff Graphics, recognized a void in his company's offerings, as he realized he could not answer clients' requests for jobs involving contour cutting.
To rout or knife-cut?
So, Duff Graphics purchased a router with a 4-hp spindle and tangential knife configuration, designed with standard features for sign manufacturing. The combination of routing and knife cutting vastly enhances the company's capabilities, with the versatility needed to cut many types of sign substrates.
The routing spindle is well-suited for cutting through high-density materials, for example, while the knife cartridge is better at cutting intricate shapes with thinner, low-density materials, as it has a fine, pointed edge.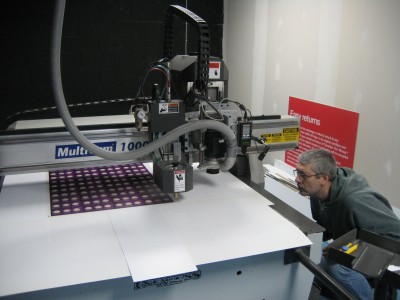 [3]The machine's drag knife can be used to cut many different types of low-density materials, including cardboard and vinyl, but encounters limitations with foam core, which needs to be 'sliced.' An oscillating knife alleviates this constraint, as its pulsating action works better at tearing the foam, providing high-quality edges. Another option for cutting 'peel and stick' vinyl is the spring-loaded kiss-cut knife, which can adjust for the depth of the cut. It essentially 'imprints' a cut to define individual decals and allow them to be easily removed from their non-adhesive back liner.
"As of right now, the spindle for routing is the most-used feature, cutting dense plastics, followed by the drag knife for vinyl and then the oscillating knife for foam core," says Bob Vartanian, Duff Graphics' machine operator, who has worked for the company for more than 25 years. "These diverse capabilities have translated into huge improvements in job turnaround time, as the production process has been streamlined."
In addition to the immense time savings, Vartanian cites the increased range of jobs the machine is allowing the company to take on.
Hands off
Before the installation, Duff Graphics mainly handled jobs that involved straight-line cutting by hand, using a 27-kg (60-lb) ruler and an exacto knife. After the printed graphics were cut this way, a drill press was used to punch holes through the signs for hanging purposes.
As Vartanian puts it, the new machine has saved his body, as cutting everything by hand was very physically straining for him. Now, instead of hand-cutting and using the drill to punch holes, these processes are consolidated in the machine, which can both cut and punch on the table in a matter of minutes.
By way of comparison, hand-cutting an approximately 1-m (3.3-ft) long straight edge through 3-mm (0.12-in.) thick styrene with a ruler used to take three to four minutes to complete. Now, the machine can cut that same straight edge in a few seconds.
"The router can take away a lot of extra processes and body strain," says Vartanian, "and it provides an end result you would not believe. Its accuracy is amazing when it comes to contour cutting."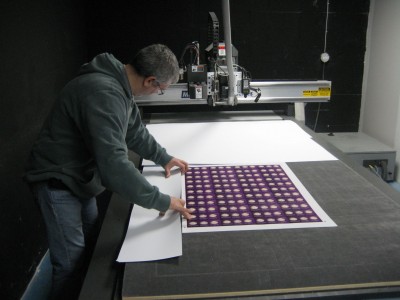 [4]Ensuring accuracy
Indeed, throughout the sign industry, precision contour cutting of all types of substrates has replaced the majority of straight-line cutting jobs.
One of the key requirements for these capabilities is a digital camera and optical registration system, for both routing and knife cutting. The camera detects registration marks (or 'fiducials') that have been added to the print file to aid the cutting process. Upon mark detection, the registration system uses the collected information to accurately locate the images to be cut, adjusting the machine for image distortion, drift and rotation.
This way, even if an image is not placed precisely on the table, the system will register the marks to ensure the correct cutting, whether this involves a straight line or complex contours. For Duff Graphics, this technology means every job can now be completed perfectly.
"If you're a perfectionist, then the vision system should be equipped on your machine," says Vartanian. "The camera delivers the accuracy needed for contour cutting. It's the best asset on the machine."
Basic training
Vartanian says learning to use the CNC technology was very easy with a little training, but emphasizes it also takes practice for operators to understand the machine's vast array of capabilities. After cutting through a lot of different materials over time, they will know which tool and which speed will work best for a given application. While mastering all of the features will ultimately depend on individual learning curves, in his estimation, most operators will generally be very comfortable after a couple of weeks of cutting experience.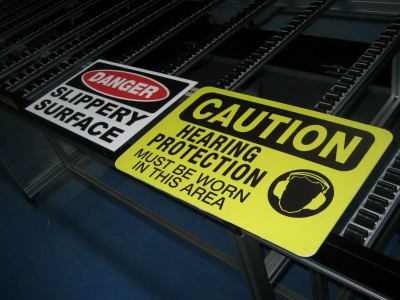 [5]Duff Graphics' machine further eases the learning curve for shop employees with an 'easy control' feature, which includes a simple material library and operating buttons. Operators can get started this way with only a few minutes of initial training.
Vartanian also emphasizes the importance of tooling. Many operators attribute poor edge quality to their routers, but it is crucial to have extra routing bits and knives on hand, as they can become dulled in the middle of a job.
"You never know when you might need extra tools, so keep them handy to be on the safe side," he says.
Carving out the future
Duff Graphics' implementation of CNC technology is the latest example of the initiatives that have allowed the printing veteran to maintain a sound business in a rapidly changing industry. The installation of the router-knife machine has not only expanded the company's product offerings and allowed it to serve new markets, but also added a great deal of productivity to its operations.
To some degree, Duff Graphics is illustrative of the Canadian sign industry in general, which has seen strong growth coming out of the recent recession. Many shops have reinvented their branding and differentiated themselves from their competition. And while there may have been a period of underinvestment before the recession hit in 2008, when clients' above-trend profits provided little incentive for them to focus on signage and marketing efforts, the current bull market started in mid-2009 and the 'boom' is expected to last another three to five years, as sign shops allocate funds toward new machinery and some of their clients benefit from government programs aimed at boosting economic productivity.
Daniel Austin is vice-president (VP) of Multicam Canada, which develops CNC routers, plasma cutters and laser and waterjet cutting systems. For more information, visit www.multicam.ca[6].
Endnotes:
[Image]: http://www.signmedia.ca/wp-content/uploads/2014/02/IMG_5688.jpg
[Image]: http://www.signmedia.ca/wp-content/uploads/2014/02/DuffGraphics_1000SeriesRouter.jpg
[Image]: http://www.signmedia.ca/wp-content/uploads/2014/02/IMG_5746.jpg
[Image]: http://www.signmedia.ca/wp-content/uploads/2014/02/IMG_5738.jpg
[Image]: http://www.signmedia.ca/wp-content/uploads/2014/02/IMG_5682.jpg
www.multicam.ca: http://www.multicam.ca
Source URL: https://www.signmedia.ca/profile-duff-graphics/
---