Basic training
Vartanian says learning to use the CNC technology was very easy with a little training, but emphasizes it also takes practice for operators to understand the machine's vast array of capabilities. After cutting through a lot of different materials over time, they will know which tool and which speed will work best for a given application. While mastering all of the features will ultimately depend on individual learning curves, in his estimation, most operators will generally be very comfortable after a couple of weeks of cutting experience.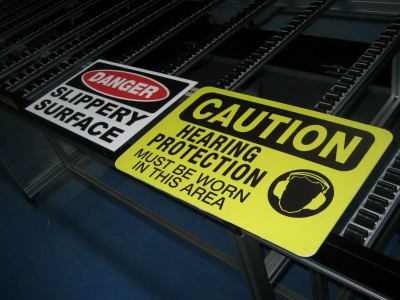 Duff Graphics' machine further eases the learning curve for shop employees with an 'easy control' feature, which includes a simple material library and operating buttons. Operators can get started this way with only a few minutes of initial training.
Vartanian also emphasizes the importance of tooling. Many operators attribute poor edge quality to their routers, but it is crucial to have extra routing bits and knives on hand, as they can become dulled in the middle of a job.
"You never know when you might need extra tools, so keep them handy to be on the safe side," he says.
Carving out the future
Duff Graphics' implementation of CNC technology is the latest example of the initiatives that have allowed the printing veteran to maintain a sound business in a rapidly changing industry. The installation of the router-knife machine has not only expanded the company's product offerings and allowed it to serve new markets, but also added a great deal of productivity to its operations.
To some degree, Duff Graphics is illustrative of the Canadian sign industry in general, which has seen strong growth coming out of the recent recession. Many shops have reinvented their branding and differentiated themselves from their competition. And while there may have been a period of underinvestment before the recession hit in 2008, when clients' above-trend profits provided little incentive for them to focus on signage and marketing efforts, the current bull market started in mid-2009 and the 'boom' is expected to last another three to five years, as sign shops allocate funds toward new machinery and some of their clients benefit from government programs aimed at boosting economic productivity.
Daniel Austin is vice-president (VP) of Multicam Canada, which develops CNC routers, plasma cutters and laser and waterjet cutting systems. For more information, visit www.multicam.ca.