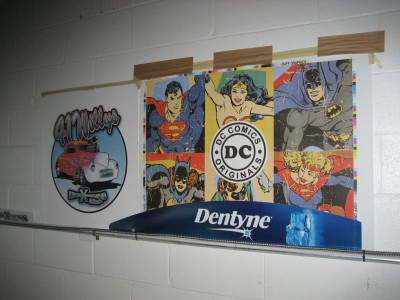 By Daniel Austin
Duff Graphics in Concord, Ont., has been serving the graphics sector of the sign industry since 1968. As such, it has needed to evolve to keep up with many technological developments over the years.
Currently, the shop's services include large-format digital printing, image setting and camera fine lines, digital photography, image assembly and high-resolution drum scanning. Indeed, it is one of the few remaining film houses, not just an outputting bureau.
In terms of large-format printing, the company offers such products as point-of-purchase (POP) displays, backlit posters, banners, display cards, pole signs, vehicle and trailer decals, floor graphics, transit signs, full-size standups, trade show displays and window graphics, among other applications. Its equipment can print on flat substrates up to 51 mm (2 in.) thick, including polyvinyl chloride (PVC), canvas, backlit film, banner material, decals, corrugated cardboard, polypropylene (PP), photobase papers, polystyrene (PS), foam boards, card stock, clear and white cling vinyl, polyethylene terephthalate (PET), corrugated plastic sheets and wood.
In fall 2011, Duff Graphics made its latest capital investment to keep up-to-date with changes in the sign industry. The company purchased a computer numerical control (CNC) router-knife machine, which it now relies upon when working on signs and graphics that call for contour cutting.
Over the past few years, there has been a growing trend within the sign industry to complement flatbed printers with contour cutting systems. With an increasing number of large-format presses able to print on a wider variety of substrates—including vinyl, wood, canvas, corrugated plastic and foam board—sign shops also need routing equipment that can accurately cut these materials of various thicknesses.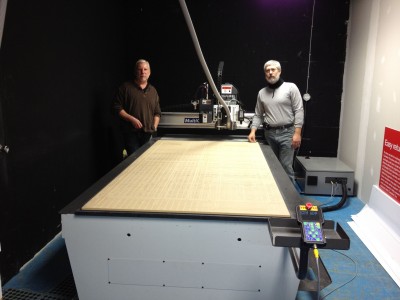 When cutting through 5-mm (0.2-in.) thick polystyrene, for example, a router can achieve the desired results, whereas a knife would typically break. At the other end of the spectrum, when an extremely thin material requires a clean finish, a drag knife—i.e. which pierces through the material once and then drags all the way through the entire job—is a suitable option.
In today's industry, sign shop owners do not want to limit themselves with too-specialized equipment, but still need high levels of precision for their output to stay competitive. These trends are highlighting the importance of versatility, boosting demand for signmaking equipment with multiple capabilities.
These trends are also why Peter Duff, current president of Duff Graphics, recognized a void in his company's offerings, as he realized he could not answer clients' requests for jobs involving contour cutting.