Key concerns in digital fabric printing
August 28, 2018
By Lily Hunter and Michael Sanders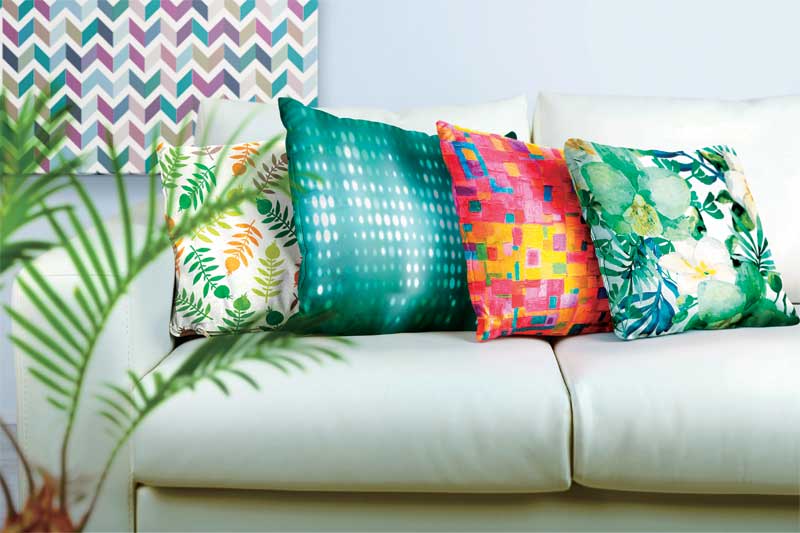 [1]
The printing of fabrics has seen a revolution in recent years with the advent of digital technology, which has saved significant time, money and labour compared to the days of screenprinting. While the earliest digital fabric printers could process 8.2 m (9 yd) in a day, making them suitable only for prototyping purposes, today's large-format dye sublimation presses can meet growing customer demand for the on-demand production of customized soft signage applications, ranging from flags and banners to lightboxes.
Construction and finishing
There are several types of fabric constructions. Circular and woven knits are mostly intended for apparel and home furnishings. While some woven fabrics are ideal for soft signage applications, the industry relies primarily on warp knits, as they offer the greatest dimensional stability.
A warp knit uses a locking stitch to provide this stability, which helps ensure a single rip in the fabric will not easily extend all the way across it. Further, a dimensionally stable fabric will not sway or torque too much after it is installed in a frame or lightbox, so the graphics should remain easily readable.
Similarly, larger air holes in the fabric are preferable, as they allow wind to pass through a banner. This in addition to the lighter weight of fabric compared to polyvinyl chloride (PVC) means soft signage is a safer option, less likely to fall on anyone.
Beyond the initial construction of a fabric, finishing also plays an important role. With soft signage applications in mind, some of the most popular after-knitting finishes for fabrics include flame retardant (FR) and durable water repel (DWR) treatments.
Not all finishes are applied in the same way, however, and so there are varying levels of effectiveness. It is worthwhile to check how a fabric's finish has been implemented and how long it will last.
The most durable FR treatments, for example, are accomplished by staining the yarns before they are even woven. The resulting fabrics are more expensive than alternatives, but will provide a lifetime of protection against burning. Also, they can be washed without reducing their effectiveness, which is not the case with fabrics carrying lower levels of FR protection.
Most professionals look for the American Society for Testing and Materials' (ASTM's) E84 standard for FR.
Performance testing
Fabrics are tested for weight, shrinkage, washability, strength, torquing, snagging, air permeability, crock (i.e. how well dyes or inks remain on the material), moisture resistance, colour migration and elasticity. When selecting fabrics, signmakers should be cognizant of which of these attributes are most relevant to their applications.
Elasticity, for example, has become particularly important due to the industry's increased use of silicone edge graphic (SEG) frames, which make printed graphics easier to install and change out as desired. Only a stretchable fabric can be fit property into such a frame, with the right level of tension, and not exhibit unwanted wavy lines across its graphics. Equal stretch is desirable in all directions.
While sophisticated machines can allow manufacturers to fabricate very high-quality fabrics for the sign industry, it is important to keep in mind no roll is 100 per cent perfect. Further, not all fabrics behave the same way in the printing process. Whenever a sign shop switches materials, it will also need to switch its printing profiles for the intended application. Fabric manufacturers might even buy their own yarns from different sources over time, which can affect the consistency of their products.
Preventing problems
Common issues that can negatively affect dye sublimation include uneven tensioning on the fabric rolls, collapsed or crushed cores (i.e. tubes) of those rolls, wrinkles, dirt, defects and shrinkage beyond about five per cent.
The effectiveness of dye sublimation also depends on proper settings for each fabric, which may best be determined through testing. It is worthwhile for signmakers to keep a journal of this testing process, documenting how well each setting works for each fabric, noting the lot and roll numbers.
There are many heat presses available for dye sublimation, but a high-quality machine is worth the heftier investment, as it should last forever with routine maintenance, can be passed down to the next generation and will retain much of its resale value. All that needs to be changed out is the belt.
The key settings for calendering with a heat press are time, temperature and pressure. The average sign shop uses about six to eight different fabrics for popular soft signage applications and the heat press will need to be calibrated with the ideal settings, as mentioned, for each material. A heavier fabric, for example, will need more pressure applied during calendering, while underdeveloped shades call for greater heat.
Any lint or debris on the fabric should be removed before it goes into the heat press, using an air line. Otherwise, the inks will transfer onto these pollutants, rather than onto the fabric itself.
If stray inks cause image overlays, then protective paper should be added to the heat press belt. This will prevent inks from one run overlaying onto the next.
Image distortion can occur if there is too much tension when the fabric is feeding through or when it is wound at the end of the dye sublimation process. Too little tension, on the other hand, can cause wrinkles. This is another example of why testing is so important.
Ink and transfer paper issues
The printing profile for a fabric is important in determining ink limits. Too much ink laydown can result in 'ghosting' (i.e. blurring), banding (i.e. unwanted stripes) or cockling
of the transfer paper.
Indeed, with fabrics, more ink does not necessarily result in more vibrant colours. Oversaturation can lead to issues with ink bleeding and pooling.
Another important factor in this respect is the quality of the ink. Dye sublimation inks are mostly water-based, but an ideal ratio will include about 60 to 70 per cent water content and 30 to 40 per cent dye and colorant content. Stabilizers are also added to keep the dye molecules from settling (i.e. sedimentation) or clumping (i.e. agglomeration).
With lower-quality inks, there is too much water and too little dye and colorant content, which leads to sign shops laying down too much ink in the hope of achieving stronger graphics. Inks are also specially formulated for specific types of inkjet printheads, with the ideal viscosity for jetting. Not all inks will work with all printheads.
The purpose of the transfer paper is to hold the inks and then release them during sublimation. It needs to be stored properly, as even coated papers can be damaged by humidity. Another way to prevent such problems is cycling through inventory with a 'first in, first out' (FIFO) system.
The weight of the transfer paper is an important factor. Anything lower than 36.3 kg (80 lb), for example, will not transfer enough ink onto fabric for a lightbox application. A middle-of-the-road option may weigh about 95 g (3.4 oz) per square metre.
New frontiers
While many fabrics have been optimized with soft signage applications in mind, the digital inkjet printing of fabrics also means sign shops can move beyond their traditional boundaries.
Home furnishings, especially, represent a new frontier. People love to be able to add custom features to their homes, but such one-off projects were simply not economical with screenprinting.
There are also commercial applications, such as digitally printed acoustic wallcoverings, which can provide visually elegant sound baffling for busy environments like restaurants, hospitals and schools. The opportunities are endless.
Lily Hunter is a textiles and consumables product manager for Roland DGA, which markets dye sublimation printers to the sign industry. Michael Sanders is director of printable textiles and finishing technology for Top Value Fabrics (TVF), which supplies soft signage materials. For more information, visit www.rolanddga.com[6] and www.topvaluefabrics.com[7].
Endnotes:
[Image]: https://www.signmedia.ca/wp-content/uploads/2018/08/Roland_RT-640_Image_Interior_Decor.jpg
[Image]: https://www.signmedia.ca/wp-content/uploads/2018/08/Roland_Texart_XT-640_dye-sublimation_printer_Green-Dragons-jersey.jpg
[Image]: https://www.signmedia.ca/wp-content/uploads/2018/08/Roland_Texart_RT-640_dye-sublimation_printer_soft_signage.jpg
[Image]: https://www.signmedia.ca/wp-content/uploads/2018/08/Roland_DGA_sublimation_Brazil_summer-banners_Texart_RT-640_printer.jpg
[Image]: https://www.signmedia.ca/wp-content/uploads/2018/08/Roland_Texart_RT-640_Image_SoftSignage.jpg
www.rolanddga.com: http://www.rolanddga.com
www.topvaluefabrics.com: http://www.topvaluefabrics.com
Source URL: https://www.signmedia.ca/key-concerns-in-digital-fabric-printing/
---