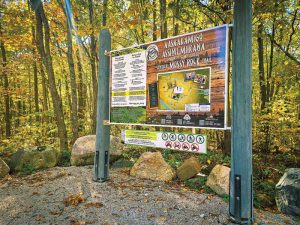 Trailhead signs
The trailhead signs highlight the path, indicate the location of the trail markers and interpretive signage, and teach users about the culture, flora, and fauna of the area. They praise the natural elements along the trail and encourage users to leave Mother Earth better than they found her. Graphics illustrate the dos and don'ts on the trail, while the Learning Zone provides a list of relevant words to read in English, French, and Anishinaabemowin.
Each trailhead sign consists of two printed aluminum composite material (ACM) panels: one 2438.4- x 1524-mm (96- x 60-in.) main panel and one 1828.8- x 304.8-mm (72- x 12-in.) under panel. The panels are mounted on cedar posts with a concrete foundation.
At the shop, the signs were mounted on aluminum frames, and steel brackets were welded to hold the posts. During the installation, the team used a mini excavator to dig the holes and mixed the concrete on-site. The brackets were added to the post, and the signs were fastened using stainless steel hardware.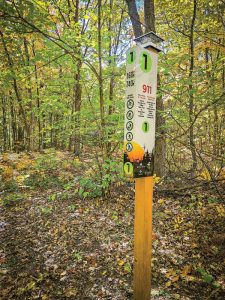 Trail markers
Markers placed throughout the trail communicate to users where they are and how far they have left to go, so they can decide if they would like to turn back or continue their journey.
These components comprise a 508- x 812.8-mm (20- x 32-in.) wrapped piece of aluminum, bent to cover three sides of a 101.6- x 101.6-mm (4- x 4-in.) pressure-treated wood post.
The aluminum sign faces were bent at the shop prior to installation. At the site, the holes for the trail markers were dug using a two-man post auger, then the posts were buried directly into the ground. The signs were attached using stainless steel hardware and the posts were topped with store-bought solar caps.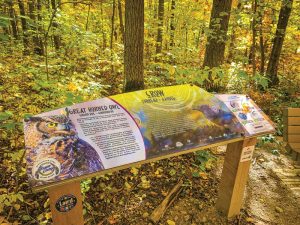 Interpretive signs
Between the distance markers are wheelchair-accessible, interactive interpretive signs with accompanying benches. Each sign includes 3D and/or movable elements for users to engage with, along with Anishinaabemowin, English, and French text to enhance the learning experience. The signs also include braille, as well as a QR code capability, so project leads can include links to audio files.
The finished size of each interpretive sign is 1524- x 508-mm (60 x 20 in.), which consists of two printed ACM panels: a 1219.2- x 508-mm (48- x 20-in.) upper panel and a 457.2- x 406.4-mm (18 x 16-in.) lower panel.
The braille, along with wood and acorn elements, were fabricated using a 3D printer. Wolf and bear paws were made using cast epoxy with a silicone mould and a reinforced fibreglass backing. Additionally, flip and scroll elements were cut from acrylic using a computer numerical control (CNC) router.