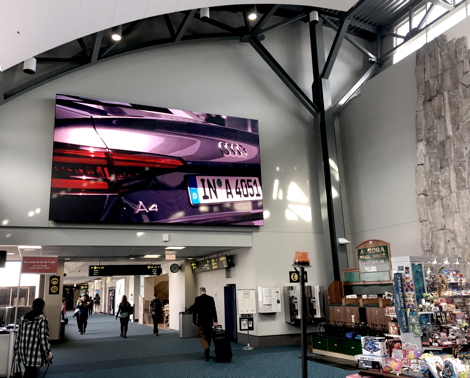 Worldwide digital out-of-home (DOOH) advertising revenue is on pace to grow by 13 per cent this year, to a projected US$13.4 billion, according to new data from market research and analytics firm PQ Media.
At the same time, consumers' level of exposure to DOOH media across all indoor and outdoor platforms has grown by nine per cent, to a weekly average of 20 minutes for the period of January to July 2017.
PQ's data covers place-based digital signage networks, interactive kiosks and digital billboards across many types of venues and locations, including roadside, retail, transit, entertainment and health care. According to the company's latest report, the fastest-growing of these include airports (example pictured), train stations and health care venues.
"DOOH is growing fast because it continues to add value to the entire out-of-home (OOH) advertising equation, equipping digital screens with cameras, location-based networking and audience measurement capabilities," says Patrick Quinn, CEO of PQ. "Our research shows brand marketers are enjoying higher consumer engagement due to these advances."
Another factor is programmatic buying, which enables advertisers to purchase spots directly in real time based on audience demographics, viewing patterns and even the weather.