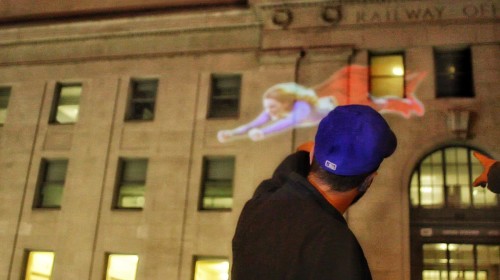 To promote the new series Supergirl, Global TV developed a digital projection stunt, whereby a 'moving hologram' of the title character appeared to fly throughout downtown Toronto, from October 20 to 23.
A vehicle driving through the city at night projected the image of Supergirl on buildings in the entertainment district, the Ryerson University campus and other areas frequented by 18- to 34-year-olds, especially women, who may not have seen promos for the series on TV.
It was the first moving hologram stunt for Global parent company Shaw Media, using assets developed by an in-house marketing and creative team and executed in partnership with Grassroots Advertising, a Toronto-based guerrilla marketing agency. The show premiered on Global on October 26 to an audience averaging 1.7 million viewers, making it one of the TV season's biggest successes so far.