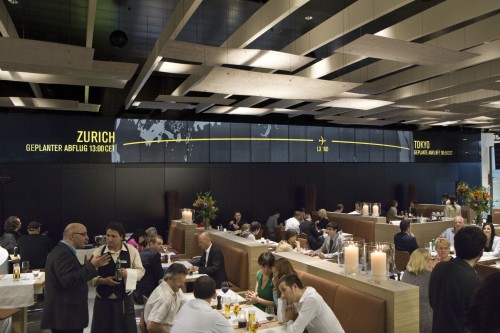 Global shipments of networked digital signage displays grew by 21 per cent to 7.3 million units last year and will experience a compound annual growth rate (CAGR) of 18.7 per cent for the next few years, according to a new research report from Berg Insight.
The telecommunications market research firm estimates shipments in 2014 reached 2.1 million units in North America, 1.8 million in Europe (examples pictured) and 3.4 million in the rest of the world. By 2019, they are forecasted to reach a global total of 17.2 million. As a result, the total number of connected digital signage displays in active use worldwide will grow from 25.4 million in 2014 to 63.8 million in 2019, representing a CAGR of 20.2 per cent.
Further, Berg Insight reports the market is expanding in both low- and high-end segments, as entry-level system prices decrease and middleware software developers support greater technology integration.
"The emergence of low-cost media players, declining prices for flat-panel displays and the popularization of software as a service (SaaS) have made it easier than ever to adopt digital signage," says Lars Kurkinen, senior analyst for Berg Insight. "Growth in the high end of the market, meanwhile, is driven by customers' needs for next-generation integration of digital signage with information technology (IT) systems to enable more targeted delivery of dynamic, engaging, real-time content."