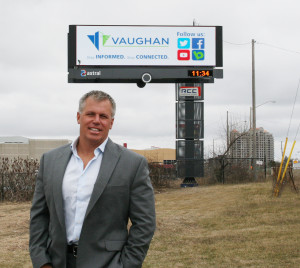 Through an out-of-home (OOH) initiative that is reportedly the first of its kind in North America, RCC Media is expanding its presence in Vaughan, Ont., by offering pylon signs to city-owned facilities at no charge, in return for the right to convert existing static billboards to digital.
Under the new partnership, Vaughan's municipal government receives both (a) exclusive use of 10 double-faced digital pylon signs at its community centres and other properties and (b) allocated time on seven RCC-owned billboards.
"With this initiative, Vaughan has the largest city-controlled OOH digital system in North America," says RCC president Tony Romanelli (pictured). "Our main advertising focus is in Vaughan, so it makes perfect sense to help grow our relationships with clients, city staff and the local community."
RCC's static-to-digital conversions, meanwhile, are part of an exclusive business partnership with Astral Out of Home that is expected to attract national advertisers.