Digital Signage: Outdoor options for scalability and connectivity
October 31, 2014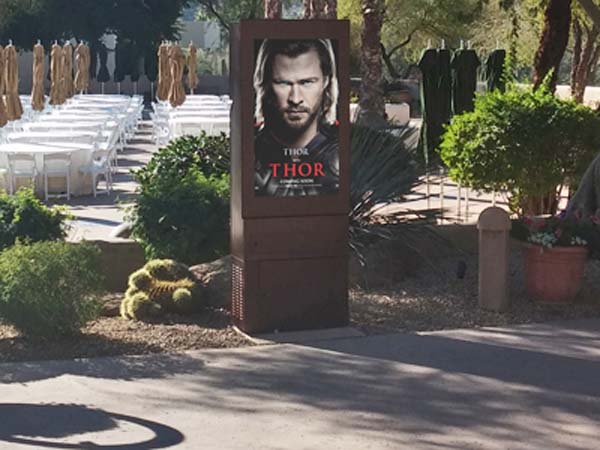 [1]By Bruno Pupo
As digital signage technology choices have increased and overall costs have decreased, the numbers of commercial deployments of indoor advertising-based and informational data networks have exploded, to the point where it is almost impossible not to encounter or reference some type of large-format digital screen on a daily basis. Coffee shops, fast food restaurants and shopping malls, especially, have installed digital signage at a large scale and improved the sophistication of their on-screen content to inform consumers and influence their behaviour. With today's affordable digital signage hardware, software and open-platform connectivity, an indoor network's return on investment (ROI) is no longer in doubt.
Outdoor installations of digital signage, on the other hand, while growing at a steady pace, have not experienced the same explosive popularity and mass adoption. Many of the factors that have enabled the widespread deployment of indoor digital signage have been lagging behind in the outdoor market.
For one thing, building an outdoor digital sign is not as simple as placing a large indoor liquid crystal display (LCD) in a watertight box. The challenges include achieving clearly visible image quality in direct sunlight conditions, securing the sign to prevent access by vandals and hackers, ensuring consistent network connectivity and surviving a variety of outdoor elements, including extreme temperature fluctuations.
Today, some vendors are specifically engineering outdoor display systems to meet all of these challenges. A few have even gone so far as mass production to ramp up cost efficiencies and reduce lead times.
As a result, in 2015, the number of standard, readily available off-the-shelf (OTS) displays for outdoor deployments will grow exponentially. As the market for outdoor digital signage is taken to the next level, it will be important to focus on scalable network connectivity options.
Wired or wireless?
Unlike their indoor counterparts, outdoor digital display networks tend to involve many units installed over a widely dispersed geography. Connectivity for monitoring their performance is critically important to support, maintain and ensure their operational integrity.
Remote monitoring is part of ensuring a sign's security. Within its enclosure, the LCD is surrounded by a variety of mandatory components to maintain the safe use of the system and avoid stress wear. With monitoring, the display can issue a 'door open' or 'glass break' alert to the network manager. This is important, as the potential for hackers to circumvent the internal media player in favour of their own malicious and/or offensive content is a bigger risk when the physical structure has been damaged.
The preferable and usually most cost-effective connectivity option for outdoor digital signage is to hard-wire each display to an existing data network infrastructure. For most digital signage integrators and their customers, this commonly involves a Category 5 (Cat 5) cabling 'drop.' In the case of highly secure networks, however, such as those used by financial institutions, law enforcement agencies and government departments, many organizations will not allow hard-wired digital signage endpoints to coexist alongside secure data traffic. In these cases, configuring a more 'intelligent' network infrastructure or even setting up a completely separate network is required.
Also, hard-wired data connectivity can face distance limitations. Without a repeater or additional extender hardware, a Cat 5 or 6 cable run is rated to support a distance of up to 100 m (328 ft). For greater lengths, more expensive fibre optic cabling offers one physical connection alternative.
In many outdoor environments, however, 'trenching' new lines for power and/or data can end up costing more than the display hardware itself. When replacing an existing lightbox for backlit static posters, for example, electrical power is almost always easily accessible, but given static signs do not need data connections, a hard-wired feed may well be hard to come by; hence the need to modify the site by trenching a new data conduit. Permits, work crews, temporary safety barriers and security personnel are all expensive and time-consuming to arrange, not to mention the inconvenience of the disruption to traffic flow around the installation.
So, in these cases, a more cost-effective wireless connection should be considered.
Mobile communications
Wireless connectivity offers a lot of flexibility, be it wireless fidelity (Wi-Fi), third-generation (3G) or fourth-generation (4G) mobile communications or even satellite-based data. Indeed, with today's wide-scale availability of 'hotspots,' it is already very common to find Wi-Fi used for many indoor digital signage installations, particularly where a physically wired connection is not possible.
That said, for outdoor digital signage, a wireless network's signal strength, bandwidth capacity and connection reliability are more significant areas of concern. Some professionals also suggest an investment in specialized wireless intrusion detection and/or prevention hardware for a Wi-Fi local area network (LAN) is required to achieve a high level of security equivalent to that of a hard-wired connection. This hardware may be cost-prohibitive when considering a Wi-Fi connection for an outdoor digital signage installation site.
Meanwhile, connectivity via mobile wireless communications infrastructure—particularly 4G LTE networks—is gaining considerable acceptance by the market. This method of connectivity is commonly referred to by the computer industry as 'machine-to-machine' (M2M), as the technology allows both wired and wireless systems to communicate, from one device to another. In the case of digital signage, a media player for content delivery and hardware for remote monitoring are connected to a server, which may be cloud-based.
The growth of M2M connected devices, often referred to as 'the Internet of things,' has led to declining costs, which help make this option promising for digital signage. Networking equipment manufacturer Cisco Systems predicts there will be more than 50 billion connected devices around the world by 2020, including many devices that were not typically data-connected at all in the past, including cars and households' water, gas and electricity utility meters. The potential list goes on and on.
Simplifying the process
While the current downside of a mobile wireless connection has been its cost—including ongoing operational expenses, associated monthly access fees and data volume charges—as telecommunications carriers compete for a bigger share of the M2M market, digital signage network operators can expect to emergence of multi-year subscription contracts, annual data use allowances, more affordable rates and more customer-centric options. Indeed, display network operators in the digital out-of-home (DOOH) advertising industry have already been deploying 3G endpoints for years and have made significant headway in securing high-volume contracts with major telecom carriers. Most of the world's digital 'street furniture,' from bus shelters to billboards, is connected via 3G or 4G networks. Some DOOH companies have made this connectivity method standard across both their indoor and outdoor deployments, as it simplifies installations and ongoing network management.
To further enable global deployments for and secure contracts from these companies, wireless carriers in various countries are beginning to form global carrier alliances, similar to those found in the airline industry. With heated competition to provide subscriber identity module (SIM) cards to digital signs, the industry will see greater value emerge.
Another option for a digital signage network that spans multiple countries is to select a 'connectivity service provider' or what is often referred to as an 'aggregator of carrier services.' These companies' business model is built on the promise of delivering seamless access to a multitude of global carriers and alliances and offering very high uptime reliability. Compared to negotiating a contract with each independent carrier in each country, working with an aggregator can greatly simplify the process.
M2M service providers can also eliminate a lot of guesswork by preconfiguring wireless routers, prior to shipping, to seek and find valid carrier signals and authenticate data connections regardless of the country where they will be installed. This is possible because these companies have already formed carrier partnerships. Further, they have negotiated high-volume discount rates on behalf of extensive lists of commercial clients.
Ensuring connection strength
The value proposition of using a wireless carrier and M2M technology for outdoor digital signage is primarily a matter of high security, network reliability and data accessibility. A digital sign with an embedded 3G- or 4G-compatible router can be installed virtually anywhere an electrical connection is available.
Also, given most outdoor digital sign networks target highly populated city centres, the carriers' signal strength is not typically a major problem. In zones where the chosen carrier's data signal is weak, various antennas are available that can significantly improve signal gain.
Digital signage operators are sometimes surprised at the high level of personal support they can receive from a telecom carrier. In some cases, the installation of a new mini base station in the area can be a strategic, cost-justified move for the carrier, as it can help ensure many more connections for both consumers and commercial clients.
There can be some security risks with 3G and 4G wireless data connections, but the carriers general offer options to remedy these issues. More significantly, even the most secure network available can face strong risks if 'freeware' and/or unsecure operation system (OS) platforms are introduced to deliver digital signage content.
A bright future for bright screens
For all of these reasons, the future looks very promising for outdoor digital signage. The promise of mass adoption is enabling the emergence of a similar value proposition to that of indoor digital signage.
The key is to develop a scalable deployment strategy and choose the right partners to follow through on that plan. It is becoming all the more feasible for outdoor digital signage networks to deliver a return on the higher rate of capital invested in them.
Bruno Pupo is vice-president (VP) of global sales and marketing for Toronto-based Vertigo Digital Displays, whichdesigns, engineers, manufactures and integrates outdoor digital signs. For more information, contact him via e-mail at bruno.pupo@vertigodisplays.com[6].
Endnotes:
[Image]: http://www.signmedia.ca/wp-content/uploads/2014/10/crop17.jpg
[Image]: http://www.signmedia.ca/wp-content/uploads/2014/10/crop52.jpg
[Image]: http://www.signmedia.ca/wp-content/uploads/2014/10/crop61.jpg
[Image]: http://www.signmedia.ca/wp-content/uploads/2014/10/crop44.jpg
[Image]: http://www.signmedia.ca/wp-content/uploads/2014/10/crop25.jpg
bruno.pupo@vertigodisplays.com: mailto:bruno.pupo@vertigodisplays.com
Source URL: https://www.signmedia.ca/digital-signage-outdoor-options-for-scalability-and-connectivity/
---