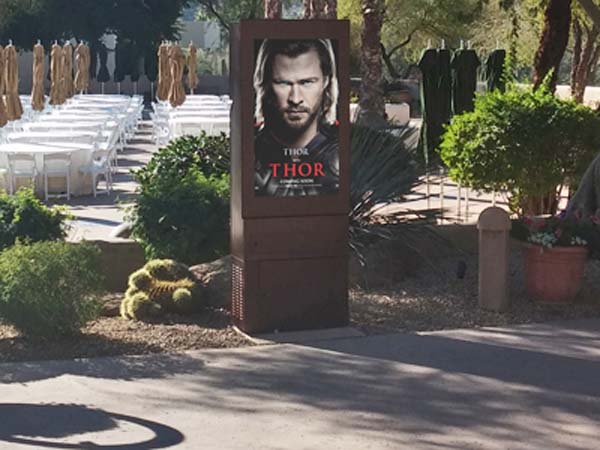 By Bruno Pupo
As digital signage technology choices have increased and overall costs have decreased, the numbers of commercial deployments of indoor advertising-based and informational data networks have exploded, to the point where it is almost impossible not to encounter or reference some type of large-format digital screen on a daily basis. Coffee shops, fast food restaurants and shopping malls, especially, have installed digital signage at a large scale and improved the sophistication of their on-screen content to inform consumers and influence their behaviour. With today's affordable digital signage hardware, software and open-platform connectivity, an indoor network's return on investment (ROI) is no longer in doubt.
Outdoor installations of digital signage, on the other hand, while growing at a steady pace, have not experienced the same explosive popularity and mass adoption. Many of the factors that have enabled the widespread deployment of indoor digital signage have been lagging behind in the outdoor market.
For one thing, building an outdoor digital sign is not as simple as placing a large indoor liquid crystal display (LCD) in a watertight box. The challenges include achieving clearly visible image quality in direct sunlight conditions, securing the sign to prevent access by vandals and hackers, ensuring consistent network connectivity and surviving a variety of outdoor elements, including extreme temperature fluctuations.
Today, some vendors are specifically engineering outdoor display systems to meet all of these challenges. A few have even gone so far as mass production to ramp up cost efficiencies and reduce lead times.
As a result, in 2015, the number of standard, readily available off-the-shelf (OTS) displays for outdoor deployments will grow exponentially. As the market for outdoor digital signage is taken to the next level, it will be important to focus on scalable network connectivity options.
Wired or wireless?
Unlike their indoor counterparts, outdoor digital display networks tend to involve many units installed over a widely dispersed geography. Connectivity for monitoring their performance is critically important to support, maintain and ensure their operational integrity.
Remote monitoring is part of ensuring a sign's security. Within its enclosure, the LCD is surrounded by a variety of mandatory components to maintain the safe use of the system and avoid stress wear. With monitoring, the display can issue a 'door open' or 'glass break' alert to the network manager. This is important, as the potential for hackers to circumvent the internal media player in favour of their own malicious and/or offensive content is a bigger risk when the physical structure has been damaged.
The preferable and usually most cost-effective connectivity option for outdoor digital signage is to hard-wire each display to an existing data network infrastructure. For most digital signage integrators and their customers, this commonly involves a Category 5 (Cat 5) cabling 'drop.' In the case of highly secure networks, however, such as those used by financial institutions, law enforcement agencies and government departments, many organizations will not allow hard-wired digital signage endpoints to coexist alongside secure data traffic. In these cases, configuring a more 'intelligent' network infrastructure or even setting up a completely separate network is required.
Also, hard-wired data connectivity can face distance limitations. Without a repeater or additional extender hardware, a Cat 5 or 6 cable run is rated to support a distance of up to 100 m (328 ft). For greater lengths, more expensive fibre optic cabling offers one physical connection alternative.
In many outdoor environments, however, 'trenching' new lines for power and/or data can end up costing more than the display hardware itself. When replacing an existing lightbox for backlit static posters, for example, electrical power is almost always easily accessible, but given static signs do not need data connections, a hard-wired feed may well be hard to come by; hence the need to modify the site by trenching a new data conduit. Permits, work crews, temporary safety barriers and security personnel are all expensive and time-consuming to arrange, not to mention the inconvenience of the disruption to traffic flow around the installation.
So, in these cases, a more cost-effective wireless connection should be considered.