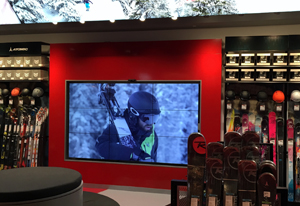 FGL Sports' newest flagship Sport Chek store opened on December 4 in Metropolis at Metrotown, a shopping centre in Burnaby, B.C., featuring a broad range of digital signage technologies.
The 4,459-m2 (48,000-sf) store integrates more than 190 individual screens, 60 tablets and nearly 100 computers. Digital signage deployments include a 7-m (23-ft) 'monolith' comprising 540 flat-panel displays, a touch-sensitive community board, eight dual-screen product showcase fixtures, a digital window installation visible from Metrotown's atrium and gesture-enabled interactive video walls in the winter sport and golf departments.
Metrotown is British Columbia's largest shopping centre. The store's opening follows the launch of similarly 'digitally advanced' Sport Chek locations in Toronto and Edmonton. Click for a video Walk-through.