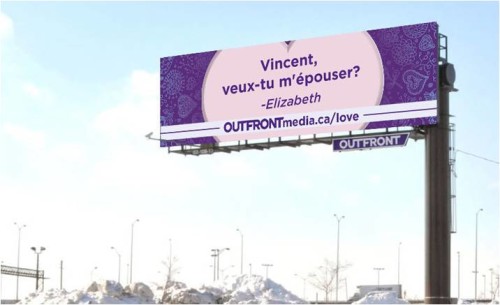 In the spirit of Valentine's Day, out-of-home (OOH) advertising firm Outfront Media Canada recently invited people to share love notes across its digital signage network—one of which led to a couple's new engagement.
More than 260 love notes were submitted online, using a custom uniform resource locator (URL), then featured on Outfront's national digital OOH (DOOH) network, with a daily circulation of 1.5 million, and shared via social media. One submitter, Elizabeth, proposed to her boyfriend Vincent (surnames not available) and reports, "It worked, he said yes!"
Outfront's Facebook reach peaked over the Valentine's Day weekend at 9,766, with its posts generating 52,681 clicks.
"We are very pleased the promotion touched so many people across so many demographics," says Michele Erskine, Outfront's marketing director. "It can be easy sometimes to forget how impactful outdoor advertising is for people, but this campaign brought that home in a fulfilling way."