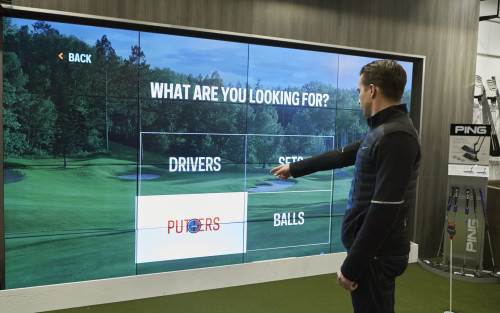 Canadian retailer Sport Chek has opened its newest digital signage-heavy flagship stores at Yorkdale Shopping Centre in Toronto and Square One Shopping Centre in neighbouring Mississauga, Ont.
Featuring interactive ski-, snowboard- and golf-themed video walls, e-commerce screens, 'holograms' and radio frequency identification (RFID) shoe displays, the 4,181-m2 (45,000-sf) Yorkdale and 6,968-m2 (75,000-sf) Square One stores follow the digital retail example of Sport Chek's Western Canadian flagship locations, which opened in 2014 in the West Edmonton Mall and Metrotown in Burnaby, B.C.
The Yorkdale store features a 'digital portal' entrance, digital art mosaic and 257 Samsung screens, while the Square One store features an event space with two curved light-emitting diode (LED) video walls and 226 Samsung screens.
"We're excited to bring our next-generation 'stadium of sport' flagship stores to the Greater Toronto Area (GTA)," says Chad McKinnon, chief operating officer (COO) for FGL Sports, which operates Sport Chek, Sports Experts, Atmosphere, National Sports, Intersport, Nevada Bob's Golf, Hockey Experts, Pro-Hockey Life, Sports Rousseau and L'Entrepôt du Hockey stores. "We are reinventing sporting goods by providing an immersive and inspiring experience for customers."