Creating special effects
February 20, 2012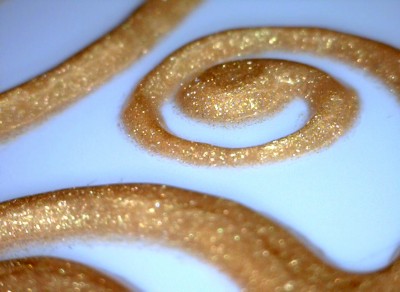 [2]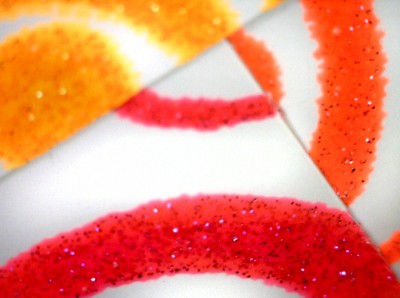 [3]
By Laura Maybaum
Even with the rise of digital inkjet printing technologies, screenprinting remains the leading process for specialty additives, effects and coatings. Inks are easily interchangeable on a press and can be customized to the finished piece. In fact, some traditional screenprinting companies are now combining special effects with other forms of printing—including digital and offset—to enhance finished graphics and thus highlight and differentiate their products from those of their competition.
Glossy, matte, multi-layer, sparkle, glow and thick buildup effects are all possible in screenprinting, though some are more difficult than others to achieve. The trick is to understand sourcing and processing requirements, to determine which applications can be most effectively produced and sold to a sign shop's customer base.
The same effects can often be applied to fabrics. Indeed, many special effects for printed graphics directly borrow their look and feel from textile printing.
The preferable inks for most applications are ultraviolet-curable (UV-curable) formulations, but some projects remain squarely within the solvent-based ink arena.
Additives
Powder and paste additives are typically purchased in 1-kg (2.2-lb) containers and added to clear inks or tints.
Fluorescent powders
Fluorescent powders offer neon-like colours to add strong visual impact. Most inks react with these powders, resulting in a short pot life, so they are typically added at the time of use. A few ink systems that are stable with them are available as pre-mixed colours, but tend to offer a lower level of fluorescence.
The powders come in a range of colours and can be added to most solvent and UV inks, typically at a load level of 15 to 30 per cent. At higher load levels, the mixed ink becomes overly thick and less stable.
So, while a greater percentage of powder can be added to some inks, the ink viscosity can easily be too high, leading to printability problems, and the balance of the base ink to provide appropriate curing and performance can be seriously hindered.
One of the biggest drawbacks to fluorescent powders is their limited outdoor durability. With continued exposure to UV light, their intense colour fades very quickly. Depending on the ink deposit, load percentage, substrate and outdoor location, this fading can be seen within a few weeks.
This durability can be extended by a few more weeks by using a clear overprint with UV inhibitors, which reduce the effects of light with respect to fading. The problem, of course, is UV inks do need to be penetrated by UV light to cure properly. When inhibitors slow this process, the UV output in the shop needs to be elevated.
For these reasons, most fluorescent effects are used for indoor or short-term outdoor prints. Some printing companies, however, will tint their fluorescent effects with a more durable mix, so as to better retain a base colour when the fluorescence fades. A yellow tint colour, for example, may be added to a yellow fluorescent ink, so when the fluorescence fades, a portion of yellow can still be seen. This tends to produce a 'dirty' look, though.
Another option is to add fluorescent pigments to halftone colours to expand the colour gamut. This can be extremely visually effective, but takes screen inks outside of graphic standards.
Optical brighteners
Fluorescent effects are often combined with an optical brightener, which then glows with a high level of colour saturation under black light. These effects might be used in a disco setting or haunted house.
In this type of application, an optical brightener is first added to a clear ink. When it is printed, it is almost invisible, but then when a black light is present, the chosen area glows. For this reason, optical brighteners are often used in security printing, such as hidden marks in identification (ID) documents.
Optical brighteners are also used in special window graphics that appear clear to people, but can be seen by birds, thus helping prevent them from colliding into buildings. And white inks use optical brightener to appear either whiter or bluer.
Metallic powders and pastes
The most common special effect additives are essentially metals made into powders and pastes. They vary in shade, surface sheen and sparkle.
Metallics tend to be added to clear inks, rather than intermixed or tinted. The particle size helps determine the mesh count for screenprinting. Effective mesh openings range from less than two times and up to three times the size of the flake. A larger opening provides a better transfer and less filtering.
Metallics include aluminum/silver, copper, rich gold, pale gold and rich-pale gold products. Those with the highest level of sheen tend to be leafing; i.e. the flake comes to the surface of the ink, providing a shinier appearance. Unfortunately, this tends to inhibit adhesion to overprinted inks.
Metals react to oxygen, slowly tarnishing or changing colour as the powder or paste ages. A new container of metallic can therefore be expected to exhibit a different colour than an older can. The same is true for prints.
Metallic powders also tend to separate from ink easily, either floating or sinking during the printing process. This can result in uneven printing, which is especially noticeable in flood coats or large areas.
Another disadvantage is metallic powders and pastes react with the ink. Some can have a pot life of weeks or months, but typically, they are added to ink at the time of use, much like fluorescent powders. Also, metallic flakes are opaque, so they can block UV light from penetrating the ink film, which may result in incomplete curing.
As metallic powders are classified as combustible, they face potential hazardous shipping requirements. Despite these disadvantages, metallics remain very popular. Indeed, prices are rising with increases in demand, so it can be worthwhile to consider alternatives.
Glitter
Large-flake powders added to screen inks are considered 'glitter.' They exhibit their highest level of sparkle in sunlight or high-power directional lighting. These powders can provide metallic, holographic, transparent, sparkling, pearlescent, interference and multi-chromatic effects.
The larger flakes mean printing consistently can be difficult. A coarse mesh limits the degree of detail. Print shops that use extremely large glitter tend to resort to printing an adhesive or glue first, then shaking the glitter onto that surface, rather than using a stencil.
If a sign shop is accustomed to fine meshes and detail, then sourcing coarse, wide meshes and developing and printing with thick stencils can be a challenge. Also, cleaning all of the glitter flakes out of a screen is very difficult, even with solvents. A shop may well end up with 'glitter only' screens and squeegees.
Metallic/holographic glitter powders come in a range of colours, from gold, silver and copper to blue, green, purple and red, and are mainly made from polyester. Some are fluorescent. The more chemically resistant the flake, the more stable it will be in the ink.
It can be very effective to use a silver flake and tint the base ink. By using the same flake in a variety of colours, cleaning out all of the flakes from the screen and squeegee becomes a non-issue.
Also, colours can be combined to achieve corporate or specialty matches. Ideally, the ink will be highly transparent, to allow the glitter to sparkle through, and highly saturated, to enhance the visual impact.
Several suppliers even provide premixed glitter inks. This prevents the need for mixing in the shop, but still allows an opportunity to add other powders for further special effects, such as fluorescence, pearlescence or interference.
'Transparent' glitter powders tend to appear white and can achieve an extremely high level of sparkle at a low load level of just 0.5 to one per cent, which also means a smoother ink surface. They are chemical- and heat-resistant, with strong outdoor durability. The downside, however, is they are more difficult to source than metallic powders, typically requiring large orders at high prices.
Inks and clears
A range of inks and clears can be used to provide or highlight special effects. For ease of use, most print shops today source UV-curable versions of these products, though solvent-based formulations are also available in many cases.
Transparent inks
Mixed, halftone and spot colours usually have some degree of opacity or haziness. In most applications, this opacity is not apparent, but transparency can become important when printing certain effects onto clear substrates.
With increased transparency, a higher level of metallic sheen, for example, can be seen through overprinted colours. This is especially important when multiple layers of ink—as in a four-colour process image—are printed with a metallic effect. Using various halftone combinations, gradations can be achieved across a graphic.
The trick is to determine the limitations of combining inks within the same image. Fortunately, software has made this much easier than before.
Highly transparent colours also require a greater level of saturation to ensure the image 'pops.' Higher-density screenprinting inks will retain their colour when backlit on clear substrates.
Transparent inks can also be used as single-pass colours over metallic effects, either in colour matches or 'as is' out of the container.
Textured clears
Textured clears contain large particles to produce a rougher surface. They have been borrowed from industrial applications to add tactile features to printed graphics.
Textures range from a satin/suede to abrasive/gritty. With most textured clears, a rougher surface requires a coarser mesh, to allow the large particles to transfer through.
The larger particles are so good at resisting physical abrasion, the screenprinting of the ink can in turn prove somewhat abrasive to the squeegee and screen. A thicker, more durable stencil, paired with a tougher squeegee, should be able to stand up to textured inks.
Bubble clears
Most inks are formulated to flow out smoothly. Clears that retain tiny bubbles in the print, however, can result in a fine texture and a visual effect that is not easily reproduced by other means.
The trick with using this type of clear is to define the mesh and a consistent printing process. There is a certain degree of processing latitude and the resulting bubbles will be somewhat random, but printing through a finer mesh will result in finer bubbles, while a coarser mesh will produce coarser bubbles.
Keys to success
As mentioned, many special effects for graphics using inks, clears and/or additives can only be achieved through screenprinting. Merging these with other printing methods, however, means multiple effects can be combined for unique results.
In all cases, it is important to understand an individual printing effect's limitations and how these will affect related processes (e.g. artwork, stencil making, finishing). It is also important to determine the cost, availability and minimum order quantities of the extra products needed, as these factors will play a role in pricing the final print for the customer.
Another key to success is to produce in-house promotional pieces first. These will allow the special effects to run through the design, printing and finishing departments, allowing any hiccups in the process to be identified and sorted out. When done right, the pieces can become samples for sales staff and customers, letting them know what special effects can be achieved, which in turn should lead to increased business and greater profits.
Laura Maybaum is a member of the Academy of Screen Printing Technology (ASPT) and a global segment manager for Nazdar, with responsibility for development of screenprinting inks for the graphics, specialty, industrial, container and membrane-switch printing markets. For more information, visit www.nazdar.com[10].
To read the full article, click here[11].
Endnotes:
[Image]: http://www.signmedia.ca/wp-content/uploads/2014/02/Image-39.jpg
[Image]: http://www.signmedia.ca/wp-content/uploads/2014/02/Image-01.jpg
[Image]: http://www.signmedia.ca/wp-content/uploads/2014/02/Image-23.jpg
[Image]: http://www.signmedia.ca/wp-content/uploads/2014/02/Image-26.jpg
[Image]: http://www.signmedia.ca/wp-content/uploads/2014/02/Image-18.jpg
[Image]: http://www.signmedia.ca/wp-content/uploads/2014/02/Image-24.jpg
[Image]: http://www.signmedia.ca/wp-content/uploads/2014/02/Image-28.jpg
[Image]: http://www.signmedia.ca/wp-content/uploads/2014/02/Image-30.jpg
[Image]: http://www.signmedia.ca/wp-content/uploads/2014/02/Image-36.jpg
www.nazdar.com: http://www.nazdar.com
here: http://www.kenilworth.com/publications/smc/de/201202/files/46.html
Source URL: https://www.signmedia.ca/creating-special-effects/
---