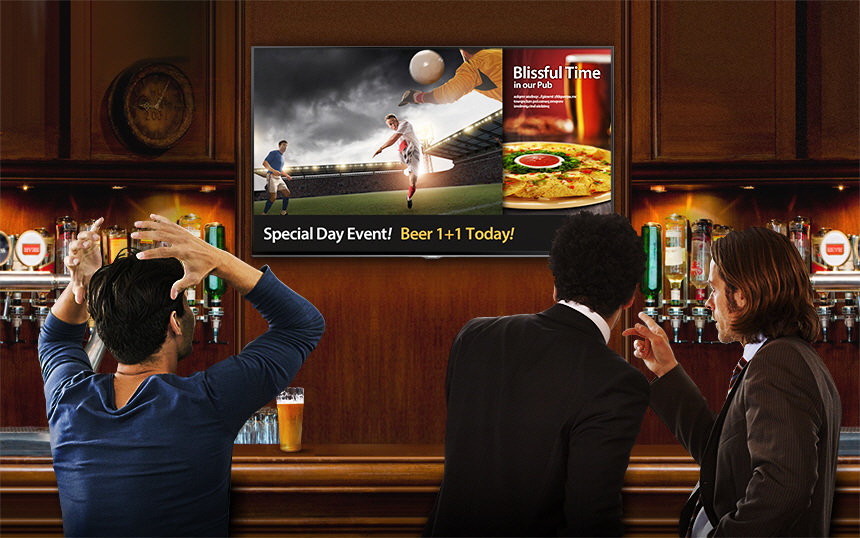 The global market for digital signage and professional flat-panel displays continues to grow, but consumer-grade TVs are posing significant competition for commercial-grade products, according to market research firm IHS Technology.
IHS, which tracks sales of both commercial-grade public displays and consumer TVs used in digital signage networks and other professional applications, predicts the worldwide market will grow from 4.4 million units in 2015 to 7.7 million in 2020, representing a compound annual growth rate (CAGR) of 8.3 per cent. In the first quarter of 2016, according to the company's report, public display growth was fuelled by higher numbers of 0.8- and 1.2-m (32- and 49-in.) displays being shipped, along with a rapid shift toward larger screen sizes in specific sectors. Displays between 1.5 and 1.75 m (60 and 69 in.) were the most popular category, for example, while those between 1.8 and 2 m (70 and 79 in.) were the fastest-growing category in the educational and corporate verticals.
While digital signage displays are specifically manufactured for use in out-of-home (OOH) environments, IHS finds lower-cost consumer TVs that were not originally intended for this purpose are also being sold through business-to-business (B2B) channels and used in professional applications.
"Consumer TVs will continue to limit the growth of commercial-grade public displays," says Sanju Khatri, director of digital signage for IHS. "As technology improves and prices fall, more users will risk buying consumer TVs for use in commercial environments. Businesses that do not need to display sophisticated content may find they perform well enough for their purposes. We've already seen major consumer TV brands positioned in the public display space and we expect this trend to increase in the future."