This year's Best of Canada's Sign Industry Awards (BOCSIes) was successfully live-streamed from one of the brightest intersections in Canada—Yonge-Dundas Square—on September 24.
The venue, courtesy the Downtown-Yonge Business Improvement Area (BIA), was decorated with a collection of neon signs from the Toronto Neon Museum, and allowed for a small gathering to be hosted live during the virtual event.
Entries to this year's awards program, jointly managed by Sign Media Canada and the Sign Association of Canada (SAC), came in from across the country, including one from the Arctic Circle. With the judges reviewing hundreds of eligible projects, Sign Media Canada, along with SAC, showcased the winners and runners up of the fourth BOCSIes awards program.
This year's competition attracted many projects of high calibre, representing the best of the best from across Canada's sign industry. With final scores proving close, all entrants deserve congratulations for the outstanding quality of their work. 
For project entries, the judges had to consider the merits of each entry in five different categories: originality, creativity, materials, appearance, and design suitability. For Sign Company of the Year (SCOTY) entrants, judges also based their selections on criteria like industry involvement and good business practices. In all, the judges selected winners in 12 categories, with the project entry that earned the highest overall score also named Best in Show.
The following is a showcase of this year's winners.
Best-in-show: Media Resources International
In receiving the award, Keith Edwards, co-owner and chief operating officer of Media Resources International, who was on location at the BOCSIEs said: "I want to thank everybody at Media Resources. We are at 250-plus employees. We couldn't have done it without you."
Sign Company of the Year: Media Resources International
In accepting Media Resources second award of the evening, Edwards said: "We work for every sign company and outdoor company in North America. We're very proud of what we do. I'm so happy to have great partners, great employees, and most of all, my wife and family for putting up with me."
Digital Signage: iGotcha Media
Marcos Terenzio, vice-president of creative strategy at iGotcha Media, said: "We really wanted to try to experience a new digital experience that took the best of digital signage, but also incorporated transparent elements. It was great to deliver the first of its kind 14-mm light-emitting diode (LED) transparent film installation in Vancouver."
Free Standing Signage: Signex Manufacturing Inc.
Stacey Gagne, business development manager at Signex Manufacturing Inc., who was also on hand to accept the award live, said: "I just want to give a quick shoutout to everyone back at home because I know they are watching. We have an incredibly talented team of individuals that are there. They are hardworking and always going above and beyond, and that is exactly what they deserve this award for."
Unique Signs: Imagination Corporation
In connecting virtually with Dan Sawatzky, founder of Imagination Corporation, he said: "We would like to thank our partners in this project: Silky John from Inkit in Yellowknife, Northwest Territories, our hardworking crew, Matt, Peter, and Grant, who did a tremendous amount of welding and grinding. It was a challenging project, but it was a great deal of fun.
Vehicle Graphics: C17 Media
In accepting his BOCSIes award, Peter Gregorian, president of C17 Media, said: "The project was for a 'FatTruck', and it's about 3 m (10 ft) tall. It was quite a large project, and it involved all the teams here at C17, from design all the way to installation. It was quite an exciting project for all of us."
In addition to the BOCSIes, SAC also presented its individual awards to a number of deserving recipients for their recognizable efforts and dedication within the sign industry.
Sign Professional of the Year – Nikki Boechler, Pattison Sign Group
Nikki Boechler is the president of the British Columbia Sign Association as well as leads the Breaking Barriers task force. Through five years of tutelage and willingness to engage, Boechler has become not only an appointed leader, but a guiding light to most of the young employees working at Pattison Sign Group.
From the very small to the very big, she knows the sign industry inside and out. She knows wiring and electrical as well as she knows fabrication, and her fingers are just as calloused and dirty as any installer elbow deep in a 30-year-old sign. There is no part of the sign industry industry she cannot engage on in great depth.
Boechler is customer-first, always looking for resolution with a focus on goodwill. She is people-first, always willing to teach, wanting to know how you are, and how she can help. She's incredibly knowledgeable about Pattison's systems and products, always able to offer alternatives or new ideas on how to solve problems. She is a role model at an industry-wide level. Boechler stands out among the greatest of crowds every time.
Volunteer of the Year – Kerri Eady, Gemini Canada
Eady is tireless in her efforts to give back to the sign association and to strengthen the industry as a whole across the country.
She has been very engaged with SAC for many years and contributes to the association in many ways through her membership on the Sign Expo, Professional Development, and Breaking Barriers task forces. Eady has been instrumental in organizing relevant webinars and launching the mentor program.
Young Professional of the Year – Stacey Gagne, Signex Manufacturing
From ISA Elite 2020 to being a senior leadership member of the Young Professionals Network (YPN), as well as being a founding member of Breaking Barriers, Stacey Gagne is a shining example of the next generation of sign professionals.
Within the YPN, Gagne has frequently stepped up to offer younger members advice and support when it comes to obstacles they are looking to overcome. With over 10 years of sign industry experience in both graphic design and sales, she is a true sign industry professional and an expert in her field.
Mentor of the Year – Keith Edwards, Media Resources

The Mentor of the Year Award is special because the winner is selected by SAC's Young Professionals Network. Edwards may be retiring, but his impact will live on, especially with upcoming sign professionals.
He has made himself accessible and present with the next generation and is honest and sincere about wanting to ensure they all succeed. Edwards is someone many young people in the sign industry look up to. Not only has he provided immense support and advice over the years, but he has done so openly and selflessly for many YPN members. This year, the industry could not think of a more deserving mentor.
President's Award – Paul Vaas, Kota Graphics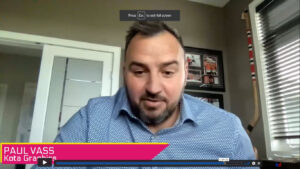 Vaas has been an integral part for the sign association. He is considered by his colleagues not only as a good friend, but also an icon for the sign association. He also played an integral role in the membership committee, as well as restructuring the member value proposition. 
A generous offer from Bell Astral Media allowed the BOCSIes promotion to appear on a digital billboard in Dundas Square. In addition to the awards presentation, not only did participants get to participate in virtual trivia, but they were also treated to live music courtesy of The Thirty Four band.
The leadup to this year's awards was complemented by a series of Sign Expo Canada Education Sessions, broadcast live virtually to participants. The education sessions were well-attended and featured sign luminaries from across the country.