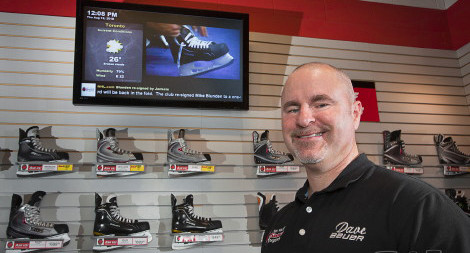 As the costs of digital signage continue to decrease each year, expanded deployment is becoming more feasible in many industry sectors, according to market research firm IHS Technology, enabling the medium to reach larger audiences.
With the increased availability of larger screens, higher resolutions, lower power consumption, ultra-narrow bezels for video walls and a wide variety of content management systems (CMSs), IHS expects overall worldwide revenue for the digital signage market to grow by 10 per cent in 2015 and seven per cent in 2016 (see chart, below).
"Further revenue growth will be driven by the expansion of ultra-high-definition (UHD) '4K' digital signage," says Sanju Khatri, IHS's director of digital signage and professional displays. "An increase in availability of 4K media players, along with decreased costs of entry into the space, will help propel strong growth this year and in 2016."
IHS's digital signage industry market tracker reports measure growth rates in units, revenue and pricing for liquid crystal displays (LCDs), light-emitting diode (LED) video screens, digital projectors, plasma display panels (PDPs), media players and other components in a variety of vertical markets. The new report, for example, indicates CMS software experienced its strongest overall growth in 2014, generating $431 million, marking an increase of 21 per cent over 2013. Over the same period, media players and set-top boxes' revenue grew by 19 per cent and digital out-of-home (DOOH) advertising revenue increased by 11 per cent.