Printhead programming
The programming behind each printhead can be considered its 'firing recipe,' prescribing the optimum conditions in which to fire the inks specifically designed for use with that printhead.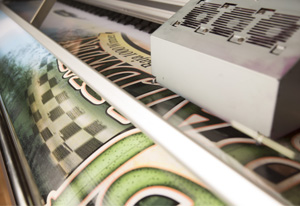 This is why third-party inks do not usually perform as well as one would hope. Manufacturers of wide-format inkjet printers have the opportunity to optimize their printheads for use with their inks within their overall device. Further, they can optimize the post-print curing of the ink on the substrate, whether through volatilization, heat or UV radiation.
All of these factors have helped make today's wide-format printers faster, more reliable and more economical than their predecessors. The evolution of inkjet printheads continues to push the boundaries for speed, ink waste reduction, image quality and substrate versatility, along with ink adhesion and print durability.
The future of printing
Sign shops, both big and small, will continue to realize the benefits of investing in new, more productive printers.
The chemists who formulate inks will continue to improve performance while avoiding VOCs and related odours. The engineers who design printheads will increase achievable resolution at high speeds. Some manufacturers will introduce larger printheads, while others will prefer to assemble arrays of smaller printheads.
Another trend that will continue is the enhancement of wide-format printers through the automation of procedures like printhead calibration and nozzle cleaning. These features have made the machines much easier to manage.
Kelly Gornick is a marketing communications specialist for Seiko Instruments USA, which manufactures wide-format printers. For more information, visit www.sii-printers.com.