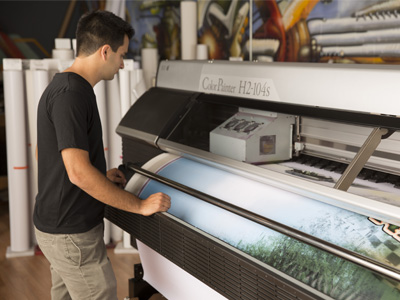 By Kelly Gornick
Digital wide-format inkjet printing has become a mainstream tool of the sign industry. A sign shop's specific choice of printer, however, as defined by the type of ink formulation used, speaks volumes about its priorities as a business.
With a solvent- or eco-solvent-based inkjet printer, for example, a sign shop is likely focusing on producing graphics that will last as long as possible outdoors, with consistently rich, glossy colours. It may also need to print high-resolution images on many different types of media. In this sense, sign shops usually buy such a printer to help expand their capabilities and potential productivity.
A durable aqueous 'latex' inkjet printer, on the other hand, suggests high-resolution indoor graphics are a sign shop's 'wheelhouse,' with a prioritization of instantly dry output as customers demand quick turnaround. It also speaks to a high regard for environmental sustainability, as the inks contain no volatile organic compounds (VOCs), and respect for employees and customers who appreciate the lack of off-gassing.
Ultraviolet-curing (UV-curing) flatbed printers combine some of these features, as they can handle flexible or rigid substrates and provide instantly dry output. For many sign shops, they have yielded opportunities for new applications, from uncoated flexible banners to ceramic floor tiles.
That said, while each type of printer offers clear advantages and disadvantages, these differences have begun to narrow as printhead and ink technologies continue to evolve. This can make deciding which printer to buy more challenging when considering which types of applications to offer, determining how much productivity is required and calculating running costs.
Often overlooked in this purchasing process are the actual printing mechanics. There are several key elements in this regard that ensure a machine can properly fire ink onto the substrate, including not only the formulation of the ink itself, but also the engineering and programming of the printheads.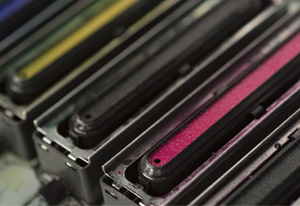 Ink formulations
When considering a wide-format printer upgrade, one of the best starting points is to calculate monthly ink costs. In many cases, an upgrade is justified on the basis of a larger volume of printing at a lower cost per square foot. It is not uncommon for sign shops to save between eight and 10 cents per square foot of ink coverage, running as few as three rolls of media per week, and realizing savings of $700 to $800 per month.
Some inks are more economical because their composition provides advantages that lead to savings. Indeed, inks that cost about the same per litre can differ significantly in true cost due to their composition.
High-viscosity inks, for instance, contain more pigment and are therefore thicker than other inks. The higher the pigment load, the smaller the amount of ink needed to print a specific colour. Indeed, high-viscosity inks can reduce overall use by up to 40 per cent.
Further, when ink lands on the substrate, it needs to adhere strongly to achieve sufficient durability for the intended application. An ink's performance in this respect also affects cost.
In the past, for example, many water-based (aqueous) inks were environmentally friendly and quick to dry, but required special coated media to ensure proper adhesion. These substrate choices were not only expensive, but also limited.
Solvent-based inks, meanwhile, have a proven reputation for excellent outdoor durability, scratch resistance and media versatility, but as the harmful effects and noticeable odour of early 'true solvent' inks led to the development of 'mild solvent' and eco-solvent inks, there was a minor trade-off in media versatility. With this in mind, chemists continue to improve eco-solvent ink formulas to increase their performance across more materials.
Indeed, moving on from monthly ink costs, it is important to consider durability, versatility and other elements of ink performance. Quick-drying UV-curable and latex inks still cannot replicate the vibrant, glossy colours and outdoor durability of solvent inks.
Upgrades often become a no-brainer, however, when signmakers figure in the faster throughput, increased graphic quality and lower cost of production offered through today's improved printheads.