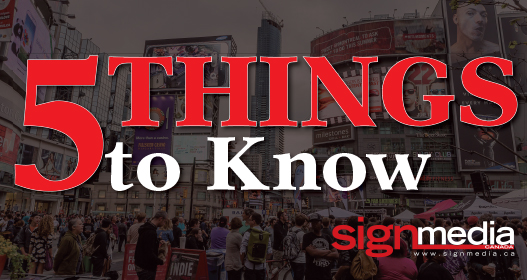 Here's your quick morning update on news in the sign industry:
1. Sign Media Canada has released the newest volume in its ongoing 'best of' series of free, downloadable e-books. Titled Wide-format Printing: The Next Generation, it collects five feature articles in one convenient edition.
2. Toronto-based EGD firm Entro recently designed a comprehensive new wayfinding sign system for Calgary International Airport's significantly expanded terminal facilities.
3. Cadillac Fairview's (CF's) shopping centres across Canada have been marking the arrival of spring with a series of dynamic displays, artful decor and interactive installations, featuring seasonal floral themes.
4. Founded in 1999, Saskatoon-based Kota Graphics has grown alongside the local economy, expanding from semi-truck fleet decals to retail graphics, interior decor transformations, resurfacing films and many other applications.
5. The deployment of outdoor digital menu boards at drive-thru locations both increases profits and reduces expenses for quick-service restaurants (QSRs), according a new total economic impact (TEI) study by Forrestor Consulting.